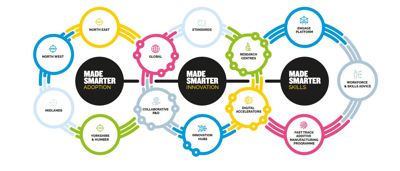 Made Smarter Innovation: Challenge Brochure
See here for the Made Smarter Innovation Brochure, featuring a varied range of Challenge projects, partners and case studies to date
Read the Brochure
Keep up to date with Made Smarter Innovation
Sign up for the Made Smarter Innovation Newsletter and get Innovation news direct to your inbox.
Register now
We have a mission: to build a digital innovation ecosystem that funds and supports UK innovators and manufacturers. It's our hope that this empowers them to validate, develop and launch their ideas.
By partnering with experts along the way, makers and digital solution companies alike can completely transform the face of manufacturing.
Through the national Made Smarter Innovation programme, we're making it easier for these individuals to innovate using emerging technologies. Manufacturers will be able to create better, more competitive and sustainable products and processes, while digital companies can get the opportunity to develop & deploy their game-changing concepts in an exciting market.
Sign-up to Innovation news
Curious about upcoming events? Funding opportunities? Advancements in IDTs?
Sign up to the Made Smarter Innovation newsletter and get the latest updates sent straight to your inbox.