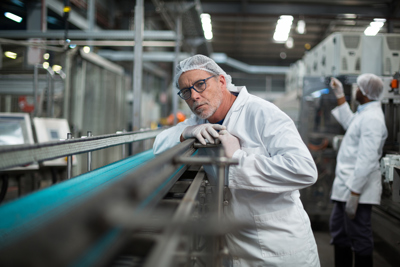 Are you a business leader who keeps hearing things about Industry 4.0 but unsure what it really means? And how it affects your business?
Industry 4.0 is the future of manufacturing. Through it, our entire sector can reap endless rewards that will ultimately lead to considerable – and sustainable – growth. However, we know that many people find it confusing and aren't clear how it applies to their business.
Industry 4.0 is also known as the fourth industrial revolution and smart manufacturing, as well as IR4.0, I4.0, and I4. It's a catch-all term for the technologies that empower businesses to collect and analyse data through machines and automate and streamline their processes. This ultimately leads to a quicker, more flexible and efficient organisation that produces better quality products at a lower cost.
Learn how Made Smarter can help your manufacturing
What are the industry 4.0 technologies?
The 4th Industrial Revolution brings together and unites advances in artificial intelligence (AI), robotics, the Internet of Things (IoT) and much more.
These leading-edge technologies enable manufacturing businesses across the sector to reap everyday production benefits and have greater oversight of their operations, both locally and remotely.
Industry 4.0 technologies include:
• Additive manufacturing
• The Industrial Internet of Things (sensors)
• Artificial intelligence and cognitive learning
• Mobile devices and wearable technology
• Data and systems integration
• Robotics and process control automation 
• Virtual, augmented and mixed realities
• Industrial cybersecurity
• Big data and analytics.