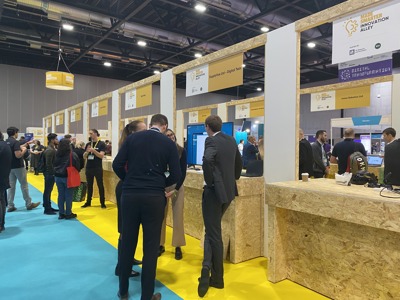 Digital manufacturing week returned to Liverpool last week and it was a hive of activity from world leading manufacturers, industry leading technology solution providers, and the brightest emerging talent from across the digital manufacturing sector.
The show's theme was 'Sustainable Industry 4.0 Unleashed', and it succeeded in highlighting the role digitalisation in manufacturing has to play in the Net Zero agenda. To this aim, it highlighted the best manufacturing case studies, collaborations and stories of tech developers supporting manufacturers on the road to digital transformation. The Made Smarter Innovation challenge funded by Innovate UK aimed to showcase the myriad of partners and projects it is delivering alongside it's stakeholders and partners across KTN, Digital Catapult, ESPRC, ESRC and Connected Everything.
Activities included :

- Made Smarter Innovation Summit: Ran over 2 days and brought together a wealth of speakers from across industry and academia and some highly engaging panel discussions to discuss the 'here and now' of Made Smarter Innovation and the importance of digital manufacturing innovation in future plans. The conference also brought in key themes around climate emergency and explored the opportunities for digital technologies in solutions to achieve Net Zero.  The £20m Smart Sustainable Factories Collaborative R&D competition was launched at the show. 
- Made Smarter Innovation Alley ran through the heart of Smart Factory Expo and brought together 57 of the new and developing technologies that will change the landscape of manufacturing over the next 5–10 years. The companies demonstrated groundbreaking solutions from the next wave of technology and consultancy businesses targeting manufacturers.   One of the Alley exhibitors, Steph Locke CEO at Nightingale HQ said "Manufacturers that aren't digitalising fast enough will be left behind and those that are, are benefiting from an increase in margins and productivity. Adopting smart tools is one of the best ways to accelerate your digital position and become more competitive.  It is affordable and becoming more accessible to all – that's what our GoSmarter platform is all about. We really enjoyed meeting the wider Made Smarter Innovation team, other exhibitors and manufacturers across the UK and feeling the wave of innovation over the last 18 months."  Nightingale HG provides AI-powered software that helps manufacturers integrate Artificial Intelligence (AI) into their operations without the need for AI expertise.
- Made Smarter Emerging Technology Show showcased early stage R&D happening across the manufacturing ecosystem from the Made Smarter Innovation EPSRC Research Centres, the Made Smarter Innovation ESRC Network and Connected Everything.  The InterAct network, launched at Digital Manufacturing Week is a call to arms for academics from the social sciences to support the innovation and diffusion of digital technologies that will result in a stronger, more resilient UK manufacturing industry. 
- The SME Growth Summit, supported by BEIS and the Made Smarter Adoption programme highlighted the benefits of adopting industrial digital technology through the Made Smarter programme.
And to cap it all off, congratulations goes out to Origin Bifolds who won the Product Innovation and Design (SME) award at the MX Awards, sponsored by Made Smarter Innovation.
"The highlight of Made Smarter Innovation Alley was the quality of attendees (our target market) which was the biggest differentiator to other events we have supported."

Junuz Jakupović, UK Director of Manufacturing of tech innovator Network Science Ltd
"Digital Manufacturing Week was a resounding success, not just for the Manufacturer, UKRI and industry stakeholders but also for the wider manufacturing industry.  Getting back out and having face to face meetings with manufacturers and digital solution providers has opened up so many opportunities for everyone. On Made Smarter Innovation Alley, there were 1282 conversations logged over the two days between innovators , potential clients, funders and partners. The work starts now to help these collaborations turn into actual results!"

Dr Megan Ronayne, Head of Industrial Technologies and Manufacturing, Innovate UK KTN
Interested in being part of the Made Smarter Innovation Network and finding out how we can help you on your journey into digital innovation? sign up here.