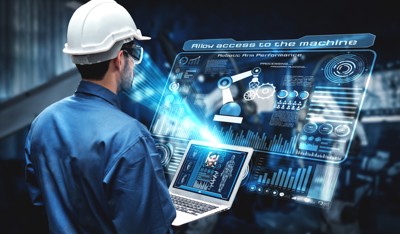 The Made Smarter Innovation programme, delivered by UK Research and Innovation, has launched a new collaborative research and development competition focusing on sustainable smart factories. This funding call presents a huge opportunity to launch a wide range of projects that bring a significant benefit to our planet, helping to achieve net zero. 
Consortiums of UK registered business and organisations can apply for a share of up to £20 million for digital innovation projects that will reduce the carbon emissions of manufacturing processes in factories. The aim of the competition is to support the development of digital innovations to improve the sustainability of manufacturing processes, resulting in either reduced material or reduced energy consumption.
Applications are encouraged from consortiums comprising a mix of manufacturing and technology development capabilities working together on innovative developments or novel applications of digital technologies. Projects can range from £1m to £8m, can run for up to 2 years, and can tackle themes from reducing in-process material losses to better sequencing manufacturing operations to reduce energy consumption.
The funding call is split into 2 strands, each with a specific focus – but one common aim; accelerating digital innovation to reduce overall manufacturing CO2e emissions
Strand 1 - Digital innovation with manufacturing data
Strand 2 - Digital innovation in manufacturing processes
Pushing the boundaries of how we can better acquire and utilise data, together with novel applications for other digital capabilities within manufacturing processes, will unlock new ways to drive down energy consumption or optimise how much material the overall production process consumes. UK organisations working together to inspire these digital breakthroughs can cumulatively make a real difference in reducing the draw on the world's resources.

Chris Needham, Innovation Lead for Made Smarter Innovation, UKRI
Digital technologies have the power to radically transform how we manufacture and deliver the products and services of the future and deliver a more sustainable, resilient, prosperous economy with fundamental changes to the nature of work. The Sustainable Factory competition will support digital innovation that helps accelerate the journey to Net Zero.

Chris Courtney, Challenge Director for Made Smarter Innovation, UKRI
Find out more about Made Smarter Innovation
Made Smarter Innovation will be showcasing at Digital Manufacturing Week,10-11th November 2021. Register now to hear more about the Sustainable Smart Factory competition.
KTN are also hosting a briefing event for the competition on 9th November 2021, which is now open to registrations.