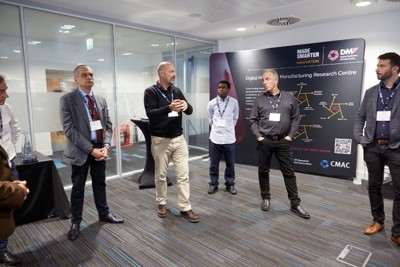 It's official, the Made Smarter Innovation | Digital Medicines Manufacturing research centre (DM2) has been formally launched at the recent CMAC Open Days event.
 Attended by over 250 delegates from the global medicines manufacturing sector, it was a perfect aunch pad to promote this flagship programme in CMAC's research portfolio.
CMAC, along with programme partners from the universities of Cambridge and Loughborough, were delighted to showcase their ambitious plans for the next 3 years of this UKRI co-funded research programme. During the dedicated launch session on Wednesday, 18th May, at DM2's base in the University of Strathclyde, Glasgow, the team of 20+ academics, researchers and project managers shared their vision to advance medicines development, manufacture, QC and supply through the creation and accelerated adoption of data-driven Industrial Digital Technologies (IDTs) including AI, robotics and digital twins.
The team were joined by Chris Courtney, Made Smarter Innovation Challenge Director, who spoke about the importance of the DM2 research centre for medicines manufacturing in the UK and further afield. Although DM2 holds a unique sector focus within the Made Smarter community, Chris also emphasised the importance of people, networking and collaboration as key themes which are relevant across all the research centres.  This highlights the importance of the dedicated engagement, networking and skills development platform being established in DM2 that is well positioned to meet these needs through our collaborative, co-creation and co-delivery approach.
This was further demonstrated by a second guest speaker, Dr Jürgen Harter from The Cambridge Crystallographic Data Centre (CCDC). As one of our existing 29 industry partners, Jurgen shared his views on the importance of working together to create impact through shared data and knowledge, and the opportunities CCDC and our other industry partners see from their participation in the DM2 programme.
DM2 is very much now open for business and looking to connect with others from across the whole digital manufacturing and Made Smarter community, in medicines and beyond. Whether you are an academic, an individual researcher or business, please do get in touch as we'd love to hear from you and explore ideas.
Together we can shape research and translation activities to digitalise medicines development and manufacturing and transform the sector, ultimately bringing benefit to patients. Be part of the change.
There are a number of ways for you to get involved with CMAC research programmes including DM2. To find out more online cmac.ac.uk/dm2-home or contact us at: cmac-dm2@strath.ac.uk