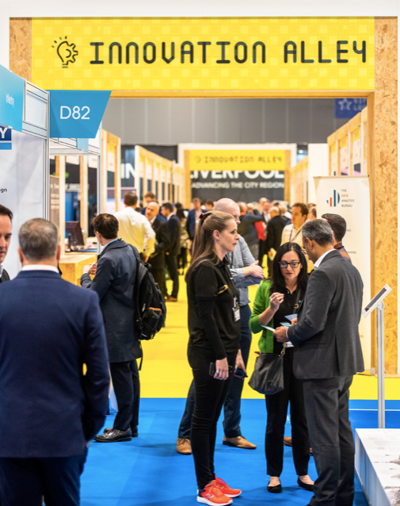 Applications now open for Made Smarter Innovation Alley, the UK's largest showcase of leading edge digital technologies for the manufacturing sector
Running through the heart of Smart Factory Expo, the exhibition area of Digital Manufacturing Week, Made Smarter Innovation Alley (which is happening in Liverpool on 16 and 17 November 2022) is the UK's primary showcase of leading edge, new, innovative digital technologies applicable to the manufacturing sector. 
Manufacturing is a really exciting place to be.  There has been significant Government investment in this area over the last few years and more opportunities in the pipeline.
We are looking for companies with innovative solutions in exciting technologies such as AI, machine learning, additive manufacturing, sensors and blockchain, robotics, immersive technologies and IIOT who are less than 5 years old and employ less than 10 members of staff to join us on Innovation Alley where businesses can test their ideas, develop partnerships, raise their profile and meet potential customers.   If your business is not currently working in the manufacturing industry, this is a great opportunity to test the waters and explore this as a new sector.
Over the last four years, Innovate UK and Innovate UK KTN have provided full funding and support for over 200 start-ups and scale-ups to explore how their ideas and innovations will work across the manufacturing sector, both in the UK and globally.
Innovation Alley exhibitors' solutions have spanned many industry sectors including medtech, chemistry, defence, nuclear, automotive, aerospace, food and drink and others.
Companies on the Alley also have the opportunity to get involved in a light touch investor readiness programme and present to a select group of investors looking to invest in this exact area of technology and sector.
Previous Ally exhibitor Andre Wegner, CEO at Authentise said: "Innovation Alley was an exciting opportunity to test new products for the first time. We've perfected our data-driven and connected workflow management tools in the additive manufacturing industry over the
last decade, after some challenging and interesting discussions on Innovation Alley."
Why Apply?
Reach the right audiences (over 5,000 manufacturers attend Smart Factory Expo every year)
Build partnerships that can make your digital technology solutions much more appealing to larger manufacturing customers
* A fantastic opportunity to market test new ideas and solutions with the people who would be using them
* It's free to participate in this fantastic opportunity (funded and supported by Innovate UK and partners)
Register today and be part of the UK's largest showcase of innovative digital solution providers for the manufacturing industry here.
If you want to find out more contact Matthew Wasley from KTN's manufacturing team.