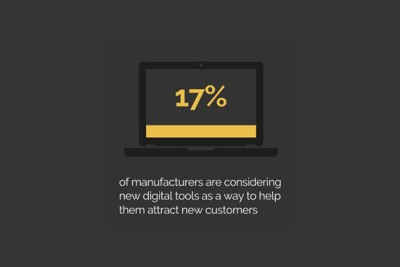 The manufacturing landscape is changing at a faster pace than ever before. With manufacturing across the globe moving to digital as well as the increased demand for sustainability, rising costs, and also events such as Brexit and the pandemic, we wanted to know what manufacturers are prioritising and how we can help support them.  
We recently asked 200 North West makers from manufacturing and engineering SMEs about how their businesses have been affected over the last two years and their motivations for adopting new technology in the future.  
Download the report
We found that survival has increased significantly as the key area of focus across manufacturers , improving productivity and adopting digital technology and automation is more top of mind than 2 years ago. Our survey also revealed that the likelihood for SMEs to adopt and invest in any new technologies in the next 2-3 years is more evident amongst small and medium sized businesses (42% of small SMEs and 14% of medium sized SMEs), particularly in industrial machinery and automation systems. 
The Made Smarter Market Research has four key sections: Business strategy and key areas of focus, adopting digital technology, business advice and support, and Made Smarter awareness and perceptions.  
17%

said that the ma

i

n barrier to accessing support and funding was due to lack of awareness of what is available

 

33%

of businesses had suffered a decline since the start of the pandemic

 

42%

said that the lack of capital and funding to invest was a key barrier in adopting new technologies

 

80%

of SMEs are happy to take a calculated risk of investing in new technologies if they can see the clear benefits

 

72%

of micro and small SMEs are interested in improving their data and systems integration

 
Our market research also revealed that achieving growth is a priority for many. Smaller SMEs in the region were also focused on survival as the UK economy adjusts to challenges around the supply chain, energy costs, post-Brexit and COVID.  
MANUFACTURING STATISTICS:
1 in 6

NW manufacturing SMEs highlighted improving productivity and adopting digital technology as a key area of focus

 

35%

of manufacturers are most focused on survival

 

1/3

claimed that their latest business strategy included integrating digital technology or a roadmap towards automation

 

Exhibitions and trade shows were cited as the most popular ways for manufacturers to stay up to date with sector news