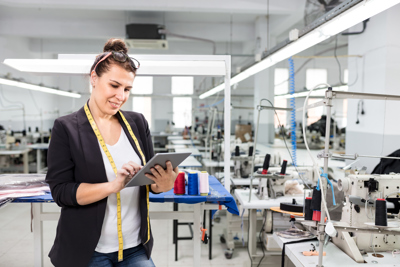 Made Smarter says technology offers sector chance to lead next industrial revolution.
UK Fashion and Textile Association (UKFT) praises success of North West Adoption Programme.
Made Smarter, the technology adoption programme, is urging textile manufacturers to adopt digitalisation to drive sustainability and growth. 
125 companies from the sector based in the North West are embracing change by tapping into impartial expert technology advice, digital transformation workshops to help them take their first steps, a leadership programme, digital technology internships, and skills development support.  
Of these, 13 textile businesses supported by matched-funding, are investing in new digital technology to solve key challenges while increasing productivity, growth, and creating new high value jobs.  
But with more than 1,000 fashion and textile manufacturers in the region employing around 15,000 people and with a collective turnover of £1.83 billion*, Made Smarter believes the sector and region synonymous with the 'first' Industrial Revolution has a golden opportunity to lead the 'fourth'. 
The textile industry in the North West was at the centre of the first industrial revolution with technological advances enabling cottons, wools, silks and dyestuffs to be produced at unprecedented rates for export around the globe. It is fitting that Made Smarter is now offering its support and expertise to help the same industry embrace the opportunity to lead the fourth industrial revolution. 

"Covid-19 has had a huge impact on the industry with supply chains broken, falling sales and regrettably, some businesses having to close. Rebuilding is an opportunity to create a more sustainable approach which enables better resilience by taking advantage of the new digital technologies. 

"I am delighted that Made Smarter has been able to support so many of the region's textile manufacturers to start their digitalisation journey. Our ambition now is to reach out to the hundreds of others across the region to support them to take their first steps to future-proof their business." 

Alain Dilworth, North West Adoption Programme Manager at Made Smarter
Tibard, based in Dukinfield, which makes uniforms for Pizza Express, Wagamama and the NHS, benefited from Made Smarter's digital transformation process before securing support to invest in a modern IoT-connected, industry 4.0 machine. 
Ian Mitchell, Managing Director of Tibard, said: "Made Smarter has helped us develop a digital strategy and accelerated our adoption of advanced manufacturing technology. The last two years have been extremely challenging, but we had to diversify our products and customers and are now currently operating at three times our pre-Covid capacity.  
"A key element of this is the automation and data and system integration work being undertaken by our digital department. We are eager to modernise our operations to help achieve our goals. Made Smarter has certainly supported our journey and without this new machinery, we would not be able to provide the best value for garments for both the hospitality and healthcare sectors." 
Others tapping into Made Smarter include: Oubas Knitwear, based in Ulverston, as manufacturer of knitted textiles, garments and accessories; Cumbria Embroidery & Print, based in Barrow-in-Furness, a manufacturer of corporate and personalised workwear uniforms and leisurewear; Private White V.C, a manufacturer of luxury handmade menswear based in Salford; Abbey England, a Knutsford-based manufacturer of leather and brassware for the equestrian and leather goods market; Derek Rose, a specialist manufacturer of nightwear, loungewear and leisurewear based in Congleton; Openhouse Products, a manufacture of bespoke medical bags, based in Birkenhead; Try & Lilly, headwear manufacturers based in Liverpool; Sigmatex (UK), a carbon fibre textile manufacturer based in Runcorn; The Leather Satchel Co, manufacturers of leather goods based in Liverpool;  The Uniform Factory, a textile printing and embroidery specialist based in Liverpool; Linzi Jay, a manufacturer of communion gowns and bridal accessories based in Blackburn, Suzi Wong Creations, a manufacturer of boxing shorts, fightwear and training kit based in Chorley; Ian Mankin, a manufacturer of designer furnishing fabrics based in Burnley; Lantex, a textile manufacturer in Accrington; Cookson & Clegg, a Blackburn-based clothing manufacturer; and Panaz, a supplier of decorative fabrics and wallcoverings based in Burnley 
Rollie Attard, Chief Operating Officer for Panaz, said Made Smarter supported the investment in an end-to-end custom digital printing solution which uses a software platform to allow design customisation and order at the click of a button. 
"We see Panaz as being at the forefront of innovation within its industry and, as a consequence, need to keep pushing the boundaries when it comes to technology investment," he said. "Made Smarter has enabled us to get to where we want to be much, much faster." 
The fashion and textile industry is under substantial pressure to change to reduce its environmental and social impact. It is responsible for 10% of all global carbon emissions, water pollution from the use of chemicals and dyes and microplastics in the oceans, as well as staggering levels of waste. In the UK 300,000 tonnes of clothing** - worth an estimated £140m - are sent to landfill or incinerated. 
With the increase in consumer awareness of the devastating impact of the fast fashion phenomenon and a willingness among millennials to pay more for sustainable goods, the UK's £32 billion*** fashion and textile industry has a huge opportunity to grow greener and more ethically. 
Digital transformation is enabling a move away from traditional production methods and processes to make clothes, footwear and household textiles.  
Digital textile printing, for example, produces less waste, requires little set-up and equipment, and uses fewer resources like water. 3D printing also reduces waste as fewer samples, and therefore fabric, are produced. 
Companies are opting to provide more data to boost transparency across the supply chain. QR codes, for instance, to detail the item's country of origin and carbon footprint. Others are using analytics to track fashion trends and cycles, helping reduce the number of clothes that end up in landfill. 
Commending the impact of the programme, Adam Mansell, CEO of UKFT, UK Fashion and Textile Association (UKFT), which brings together a network of 2,500 designers, manufacturers, agents and retailers, said: "The success of the Made Smarter Adoption Programme in the North West has demonstrated the value of targeted support for SME manufacturers to help them take those first steps on their digitalisation journeys. 
"The UK fashion and textile industry has a worldwide reputation for originality, quality, and innovation, combining skilled design and craftsmanship with cutting-edge technology. To continue building on this achievement and ensure the UK remains competitive against global competition, manufacturers need to embrace current and emerging technologies, and the huge potential digitisation offers, as well as to raise the skills and productivity of the people who work in our sector to the highest level." 
Made Smarter has produced a free guide to help businesses in the sector. To download a copy visit: https://www.madesmarter.uk/resources/guide-textile-manufacturing-how-digital-transformation-is-securing-a-sustainable-future/ 
ENDS 
Notes to editors 
*www.ons.gov.uk/businessindustryandtrade/business/activitysizeandlocation/adhocs/12391fashionandtextileindustry 
** https://publications.parliament.uk/pa/cm201719/cmselect/cmenvaud/1952/report-summary.html 
*** www.britishfashioncouncil.co.uk 
Additional quotes: 
Stead McAlpin, a manufacturer of luxury furnishing fabrics in Carlisle, has capitalised on a variety of elements of the Made Smarter programme. 
Ben Soper, Managing Director, said: "We have experienced huge benefits from engaging with Made Smarter. Its digital transformation workshop helped us focus our ideas to identify some solutions, then we secured grant funding to aid with the integration of new digital technology. Meanwhile, Made Smarter's digital internship programme gave us a valuable resource and expertise to help trial and implement the technology. 
"As a traditional analogue printer this new digital technology is game-changing for us. It's a new way of working which will enable us to become much more agile and responsive to customer requests and open up new markets. Such big change requires a careful and considered approach and Made Smarter has supported us all the way. We wouldn't have had the confidence to take such a leap without their help." 
Oubas Knitwear, based in Ulverston, a manufacturer of knitted textiles, garments and accessories. 
Kate Stalker, Director of Oubas Knitwear, said: "As a business it is important that we continually strive to improve our design, manufacturing and business processes. New technology and skills will play a big part in that. 
"We embarked on Made Smarter's Digital Transformation Workshop to access the fully funded help to take stock of our current situation and explore how technology can overcome some of our challenges. It was a valuable exercise that has given us a digital roadmap and vision for the future." 
Abbey England, a Knutsford-based manufacturer of leather and brassware for the equestrian and leather goods market, used the Made Smarter Leadership Programme to aid structural changes in the company and identify new methods of 3D scanning and 3D printing which could halve the company's manufacturing lead time. 
Peter Phillips, Director, said: "The leadership programme has been an inspirational experience. It isn't often you get the time to step away from the business to think about how you are running it. SMEs tend to operate in an isolated bubble. It was a valuable experience to meet other leaders from different types of businesses and seeing how they do things and feeling reassured that even much larger organisations have the same challenges. 
"For any other SMEs wondering where to start with digitalisation, I absolutely recommend this programme. Not only does it arm you with the basics about the technologies that could help you, but it gives you the tools to bring them into your business." 
Patrick Grant, Managing Director of Cookson & Clegg, a Blackburn-based clothing manufacturer, said: "With the support and advice of Made Smarter we have been able to pursue our ambitions of improving both productivity and cost control across our operations by adopting digital technology. Capturing data from the shop floor and being able to monitor it in real time is an exciting first step on our digital transformation journey." 
For all Made Smarter media enquiries contact Stuart Greer and Melanie Antao Fernandes at Antao Greer Communications on 07799 289650 or email stuart@antaogreer.com or melanie@antaogreer.com 
About Made Smarter 
Made Smarter is the UK national industrial digitalisation movement to drive productivity and growth of manufacturing industries and put the UK at the forefront of the 4th Industrial Revolution. Backed by world-renowned businesses and working in partnership with the UK government, Made Smarter will make a real, everyday difference to people from the boardroom to the factory floor. For more information, visit www.madesmarter.uk