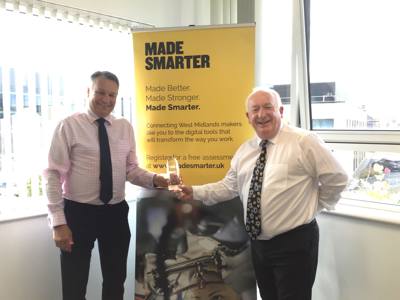 A scheme which has helped dozens of manufacturing and engineering firms in the West Midlands embrace cutting-edge technology to boost their productivity has scooped a top award recognising its commitment to innovation.
Made Smarter, a programme which helps SMEs in the manufacturing and engineering sectors utilise new digital technology and equip them for the future, was among the winners at the Innovation Awards held at a ceremony in Birmingham.
The programme won the 'Engineering Innovation Champion – Organisation Sector' category alongside APF - Aston University.
Made Smarter was launched in the West Midlands in 2021, and has been led by Coventry and Warwickshire Local Enterprise Partnership (CWLEP) Growth Hub with its fellow Growth Hubs in Greater Birmingham and Solihull, the Black Country, Worcestershire, The Marches, and Stoke-on-Trent and Staffordshire on behalf of the West Midlands Combined Authority and the Department for Business, Energy and Industrial Strategy (BEIS).
The Growth Hubs work alongside strategic partners WMG, at the University of Warwick, and the Manufacturing Technology Centre (MTC) in Coventry to provide expert advice to businesses.
Since Made Smarter was launched in the region, it has advised more than 200 businesses on how to improve their productivity through adopting digital technology, which has generated millions in GVA.
It has also allowed these firms to access match-funded grants of up to £20,000 for major capital improvements.
Such was the success of the original one-year programme, it was renewed by BEIS for another three years, allowing even more companies to sign up.
Craig Humphrey, Managing Director of CWLEP Growth Hub, said: "The success of Made Smarter since it launched in our region has surpassed all expectations, and this award win is a testament to that.
"Our Digital Transformation Experts have done brilliantly in reaching out to businesses, giving them tailored advice suitable to their needs, and helping them access the capital they need to implement improvements.
"Being renewed for another three years was a clear endorsement that we have achieved great things for the sector here in the West Midlands, and it's fantastic that this commitment to innovation has been recognised with an Innovation Award.
"We're absolutely delighted and we're looking forward to continuing our work with businesses across the region."
Paul Sullivan, Digital Transformation Expert at Made Smarter, added: "Many of the businesses we have visited over the months were either unaware of what tools were out there to help boost their productivity, or knew what they needed but did not have the funds available.
"It's been a real pleasure to visit these businesses and watch them flourish once they've adopted the new technology.
"Made Smarter is having a major impact on the West Midlands economy, and this award underlines the work we've put in."