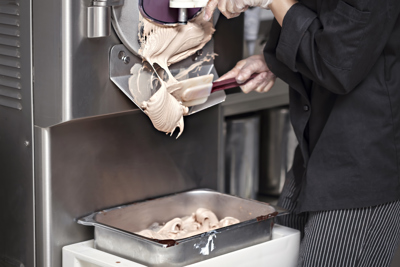 An ice cream manufacturer is ready for the summer rush after using technology to transform, with the support of Made Smarter.
Lakes Ice Cream, based in Kendal, makes 1.2m litres of ice cream each year and distributes all over the UK.
It has invested in data and system integration tools that link key business operations: order processing, manufacturing, stock control, sales, distribution, and accounting.
The technology has replaced traditional manual, time-consuming and paper-based processes, sped up communications within the business, and freed the small team of 15 employees to focus on more high-value and skilled tasks, such as developing new recipes, flavours and products.
The summer holidays are the the perfect opportunity to celebrate the manufacturers of all the delicious ice-cream we will be enjoying.

"We are delighted to be supporting Lakes Ice Cream at the start of their journey to digitalise and decarbonise.

"It is a fantastic example of the impact that data and systems integration technology can have on a business to drive productivity, efficiency, sustainability and growth.

"Lakes Ice Cream are among hundreds of manufacturers in the region grasping the opportunities offered by Made Smarter which include expert, impartial technology advice, digital transformation workshops to help take that first step to transform a business, and support with technology investment. I would encourage other family-owned businesses and SME manufacturers to do the same."

Donna Edwards, Programme Director of Made Smarter Adoption Programme
Crucially, the investment has enabled the business, which has experienced a 40% increase in turnover, to keep up with demand and future-proof its plans to scale up the business.
Lakes Ice Cream was supported by Made Smarter's North West Adoption programme, which helps SME manufacturers to adopt new technologies  to increase productivity, achieve sustainable growth, and create new high value jobs.
James Stephens, Managing Director, said: "We are delighted with our experience of Made Smarter. From the first conversation they have supported our digital transformation, offered their expertise and given us that confidence in starting our digitalisation journey.
"While we are only part way through the project, the technology has had an incredible impact, making everything easier. It has made us excited for the next stage."
After 25 years as a family-owned business, growing organically through sales in shops, supermarkets, hotels and food service wholesalers, Lakes Ice Cream began a new era under the ownership of Joanne and Robin Graham in 2019.
"What we have achieved so far really demonstrates the substantial benefits that digitalisation and integration make," James said. "We have a small team so time is extremely precious, so to squeeze more productivity wherever you can is fantastic. What's more, our employees see these benefits as it allows them to learn new skills and enjoy their work more."
The investment is helping Lakes Ice Cream decarbonise by eliminating paper-based processes and activating route optimisation which reduces fuel use.
While plans for a new factory are two years away, Lakes Ice Cream is already investing in new machinery. Its automated packing machine will be four times quicker than the current manual process.
James said: "We want to take the business to the next level. That means a new factory and cold store, new automated machinery and new vehicles. At the heart of those changes will be a software system that integrates all aspects of our business and lays the foundations for scale."