Ahead of National Manufacturing Day (28th September), Made Smarter gave SMEs a vision of the manufacturing future during an event hosted at Siemens' carbon-neutral smart factory.
The Made Smarter 4.0 Impact Showcase brought together industry leaders, stakeholders and SMEs at the Siemens Smart Factory to explore how digital technology has transformed their manufacturing businesses.
So far 2,500 manufacturers from every sector in every corner of Cheshire, Cumbria, Greater Manchester, Lancashire, and Liverpool City Region have secured support, including expert, impartial technology advice, digital road mapping workshops to help manufacturers take their first steps to transform their business, and leadership and skills development.
The government-funded, industry-led initiative has delivered 334 technology projects, which have created 1,545 jobs and upskilled 2,772 existing roles.
It was an inspiring demonstration of the opportunity of digitalisation and decarbonisation for visiting SME manufacturers who included: Qualkem, a manufacturer of eco-friendly domestic cleaning products based in Crewe, Firstplay Dietary Foods, a specialist food manufacturer based in Stockport; IoT Horizon, a manufacturer of sensor technology based in Rawtenstall; Liversidge Windows & Double Glazing, based in Oldham, Harten Frameworks based in Bollington; Bury Black Pudding Company, a food manufacturer in Bury; and Bloom in Box, a manufacturer of eco-friendly plastic products in Burscough.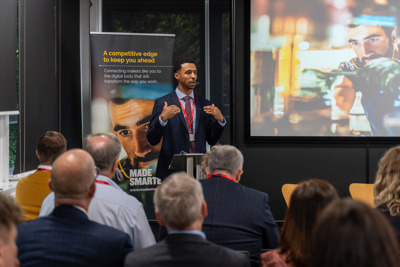 Speaking at the event, Paul McLaren, Production Director for BAE Systems and new Chair of Made Smarter North West's Steering Group, praised the 'tremendous' impact of the programme.
"Made Smarter has demonstrated that targeted support can be a catalyst for growth and a real enabler for change," he said. "UK manufacturing is moving into a phase where resilience is as important as it has ever been. Made Smarter is helping SME create robust plans to deliver impactful results."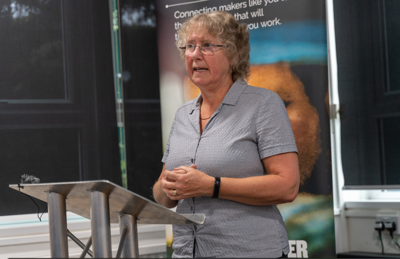 Donna Edwards, Managing Director of Made Smarter's North West Adoption Programme, said: 
"Made Smarter in the North West has been on an incredible journey over the last four years helping businesses navigate the pandemic and recover, negotiate supply chain disruption and labour shortages, as well as focus on solutions to mitigate the energy crisis".