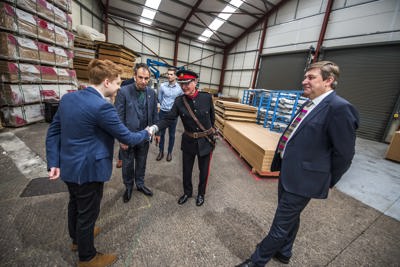 Deputy Lieutenant, Ian Sandiford, visited the factory on 24 November to deliver the prestigious Queen's Award for Enterprise for Sustainable Development on behalf of the Queen.
Crystal Doors received the award in recognition of its outstanding achievements in championing sustainable business and transforming its factory into a best practice example of green manufacturing.
A series of sustainability interventions over a six-year period include smart autonomous machinery, energy efficient technology, solar panels, electric vehicles and biomass heating fuelled by the factory's own wood waste.
Also attending the event alongside the workforce were representatives from GC Business Growth Hub and Made Smarter, two regional business support programmes that have been instrumental in helping the company to become one of the nation's biggest green business success stories.
Ian Sandiford, Deputy Lieutenant of Greater Manchester, said:
"The Queen's Award is the most prestigious award given for business performance; they are not easily earned. This year, 17 awards for Sustainable Development were made nationally, and only two in the North West. It is certainly a high standard to live up to.
"It gives me great pleasure to congratulate Crystal Doors on behalf of Her Majesty for their remarkable achievement. The Lieutenancy is mindful of the environmental problems we're facing – we are currently planting 15,000 trees in Greater Manchester – so I've got nothing but admiration for everything Crystal Doors has achieved."
Officially receiving our Queen's Award in front of the whole team and some of those who have supported us on our journey was so important because none of it would have been possible without their efforts.

As well as our fantastic employees, I must also give thanks to organisations like GC Business Growth Hub, Made Smarter and Rochdale Council for providing their support. I feel very proud and privileged to have such a great support network around me.

We are a small company with a turnover of £3 million, but we are making an impact way beyond our size. The manufacturing industry is beginning to wake up and take notice of the climate and ecological emergency around us, and we are a proven example of how to successfully make a difference and become a stronger business as a result.

Richard Hagan, Managing Director at Crystal Doors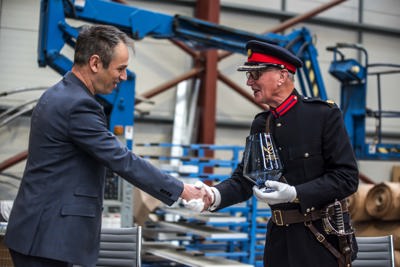 Geoff Crossley, Senior Manufacturing Advisor at GC Business Growth Hub, said:
"Crystal Doors thoroughly deserves its Queen's Award, not least because it is a great example of a business that is successfully becoming cleaner and greener by doing things in the right order. We have worked with Richard since 2015 to put the groundwork in place through resource efficiency and lean principles, which helps make the most of the clean energy now being generated on-site.
"As a result, Crystal Doors has an excellent platform to push on with even more transformational improvements through digitisation and product innovation, which is really exciting to see."
Alain Dilworth, Made Smarter Programme Manager, said:
"The fourth industrial revolution is not just an opportunity for manufacturers to be smarter, but also to be greener. We were delighted to pair Crystal Doors with a graduate through Made Smarter's digital internship programme to implement a network of sensors connecting their machines through the Cloud. This provides valuable insights on how well machines are performing in real-time and how production might be made more efficient.  
"It was fascinating to hear about Crystal Doors' follow-on vision to create an online dashboard dedicated to sustainability, where everyone will be able to see how well the company is performing in terms of energy use, efficiency and carbon in real-time. That's a brilliant example of digital transformation in action."
ENDS
Photography of the event is available here: https://we.tl/t-mXJsZE2J8q
For more information on Crystal Doors' sustainability plan visit www.crystaldoors.co.uk/carbon-neutral.
More information about the Queen's Awards for Enterprise is available here.
About Crystal Doors
Established in 1994 in the centre of Rochdale, Crystal Doors are specialists in vinyl-wrapped doors and component manufacture for kitchens, bedrooms, bathrooms and a range of other markets including hotels, hospitals, shop fitting and restaurants. We are the UK's only 24-hour turnaround manufacturer of vinyl-wrapped doors and use state-of-the-art technology for both one-off items and volume production, using quality raw materials from sustainable forests. www.crystaldoors.co.uk.