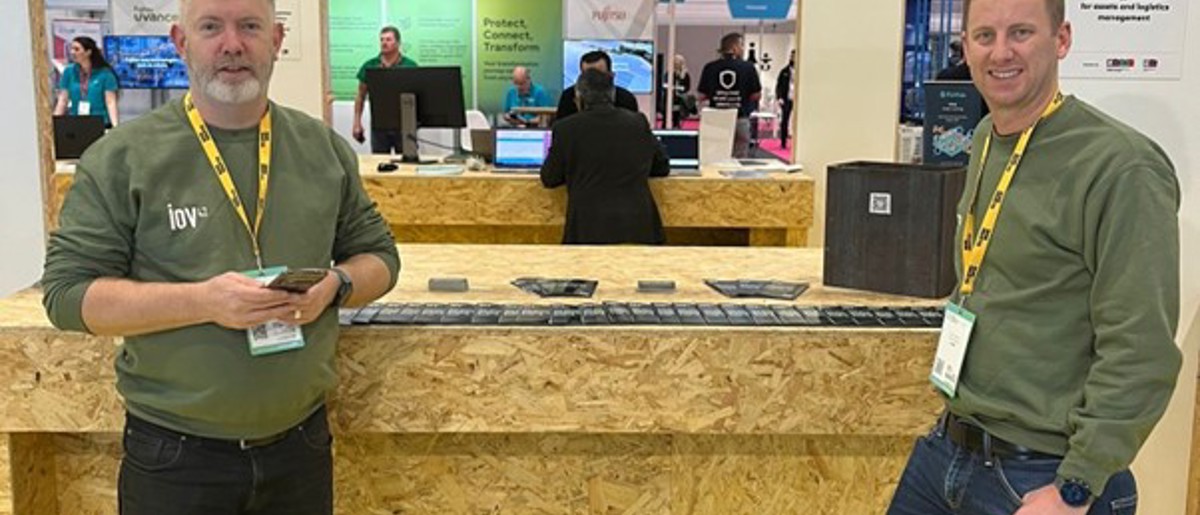 iov42 agreed that Made Smarter Innovation Alley was a great testbed for their early stage blockchain technology
Running through the heart of Smart Factory Expo, Made Smarter Innovation Alley is home, each year, to 50 of the UK's most disruptive, innovative technology companies in the manufacturing sector. 
Exhibiting on the Alley in 2022, iov42 is a prime example of how innovation is transforming manufacturing.  Their technology takes the fundamentals of blockchain to a new level, offering trusted, transparent and secure transactions. 
The team at iov42 were invited to take part in the Alley through Innovate UK KTN.  A young company at the start of their growth journey, iov42 were working with Tata Steel UK on a Digital Product Passport prototype and saw a massive opportunity to take this technology to the wider manufacturing industry. They wanted to engage with a wider network of manufacturing businesses to test their message and refine their product model.  iov42 met with lots of different manufacturers on the Alley over the 2 days – everyone from Pharmaceutical manufacturers to companies manufacturing Art.     
Chief Product Officer at iov42 David Coleman said, "We saw an opportunity to meet with individuals from across the manufacturing sector to test our product and messaging.  Blockchain is a difficult concept to understand so hearing from the likes of PepsiCo that they 'liked the word 'trust' used in conjunction with blockchain' made us realise we were on the right track! We have continued to improve our messaging and product, some of which was inspired by the  feedback gathered on Innovation Alley, and are returning to the show again this year with a much more robust offering."   
As a small company starting out, it can be difficult to make inroads into a new sector, especially when you have a technology that is difficult to grasp.  iov42 agreed that Innovation Alley really helped open new doors for them.  With all the disruptive, innovative, young digital tech companies in one place, it is difficult for visitors to miss the bright yellow Alley and they are drawn to come and find out 'what all the fuss is about'.  With the support of the team at Innovate UK KTN, companies on the Alley are encouraged to build their network of connections on the Alley and look for opportunities to work together.  Matthew Wasley from Innovate UK KTN said, "I've been involved with the Alley for the last 3 years and I have seen some great relationships flourish on the Alley, some resulting in successfully securing Innovate UK funding.  My team talk to all the exhibitors, and this engagement allows us to identify opportunities to link companies together to explore potential collaborations."   
Hollie Bridgland, Marketing and Communications Manager for iov42 said "I would strongly recommend Innovation Alley to all types of companies from early-stage start-ups to growing SMEs. It's a fantastic opportunity to meet lots of interesting people from across the manufacturing sector, rub shoulders with other innovators in the same position as yourself and test your product idea, all through the support of Innovate UK and KTN. We were lucky enough to be one of the companies who were videoed on our stand and that was really useful when we were following up with visitors. Come with an open mind that sales leads are not the only successful metric from a show like this.  My top tips for making the most of this opportunity are are;
Be open to having different types of conversations. 
Spend time understanding the challenge of everyone who visits your stand.
Know the strength of each member of your team so you can direct questions accordingly.
Visit other stands and meet with other interesting exhibitors.
If you are showcasing something, make sure you bring a monitor as a laptop can get a bit lost.
Bring a demo of your technology, if possible, as this is more tangible.
Have some good 'swag' on your stand as it draws people in!
Spaces are still available on this year's Innovation Alley, taking place as part of Manufacturing & Engineering Week in Birmingham from 7 – 8 June 2023.  If you have a cutting edge, disruptive digital technology in AI, Blockchain, machine learning, additive manufacturing, IIOT, robotics or immersive technologies and you are based in Wales, Scotland, N.Ireland or Wales, apply now for a fully funded stand.
Apply for a stand