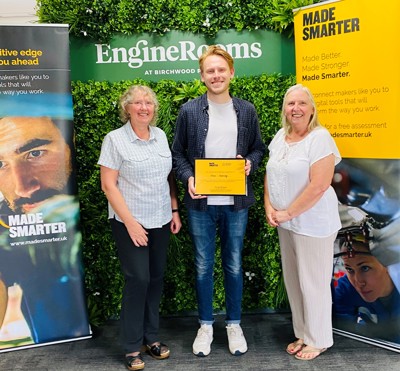 Ulverston-based Playdale Playgrounds has worked with Made Smarter to drive digital transformation.
Playdale, a designer and manufacturer of equipment for play areas and leisure, has accelerated its digital transformation with the support of Made Smarter.
The incredibly competitive nature of their sector prompted Playdale to embark on an ambitious plan to become a fully digital factory. To achieve this, the Cumbrian company has invested in leadership skills and technology.
With Made Smarter's help, they have adopted a Smart CNC machine to integrate with their CAD, nesting software, and ERP system. 
Paul Mallinson, Playdale Playground's Technical and Operations Director, said: "We have been looking at our digital strategy for the last few years, but now with the help of Made Smarter, we can accelerate our plans."
To help push forward these plans Playdale's Head of Digital Development, Oliver Harbidge, participated in Made Smarter's Leading Digital Transformation programme. The 14-week course aims to equip managers with the skills they need to be a digitally informed, empowered leader.
Oliver Harbidge said: "The leadership programme has been a huge help for my personal development and for our business, many of the management tools discussed in the course are already being used to great effect.
"A key takeaway was the importance of ensuring digital change is implemented operationally as well as culturally. One without the other will not work. It is also very important to manage stakeholder expectations when it comes to introducing change and digital transformation. "The course content was excellent for someone new to management. I now have a clear path outlined that addresses exactly how we are going to move forward digitally."
Case Studies - Our impact as told by our clients