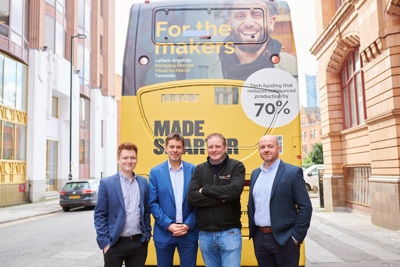 Eight real-life manufacturers are the stars of a new advertising campaign to increase technology adoption among businesses in Greater Manchester.
'For The Makers' has been launched by the Made Smarter Adoption Programme in the North West, which works with small and medium-sized (SME) manufacturers to help adopt Industry 4.0 technologies and digital skills to help boost productivity, drive sustainable growth and create new jobs.
The ads are being used as livery on 120 buses travelling across the Manchester, Salford, Bolton, Bury, Oldham, Tameside and Stockport regions and will feature on digital billboards at key commuter locations including Trafford Towers, the M602, Hyde Road, Princess Street for the next month.
They feature striking photographs and testimonials from 'makers' who have already reaped the rewards of Made Smarter since it was launched in 2018 including: Lefteris Angelidis, from Visual Architects in Hyde; Richard Morris, from The Bury Black Pudding Company in Bury; Chris Lever, from Bindatex in Bolton; John Bowden from ATEC Solutions in Salford; Richard Hagan from Crystal Doors in Rochdale; and Sarah Poynter from Arden Dies in Stockport.
Together with social media ads featuring Rob Langford, CEO of Starlight Bedrooms in Bolton, and Lynn Lloyd, Managing Director of Lynn Lloyd Soft Furnishings in Leigh, the campaign aims to raise awareness and showcase the impact the government-funded, industry-led programme can have on SMEs who seek support.
Visual Architects, which makes creative interiors for bars, nightclubs and festivals, as well as hotels and brand launches, worked with Made Smarter to develop a digital roadmap, bringing in new skills, and investing in robotics. As a result it has transformed its design and manufacturing capability and production capacity, and opened new export markets which are forecast to double its sales over the next three years.
Made Smarter has been rocket fuel for our company. Its support through the pandemic and the devastating period for the events industry has helped us create a roadmap, invest in new technology and embed skills which we have no doubt will enable us to bounce back stronger and go to the next level.

Lefteris Angelidis, Managing Director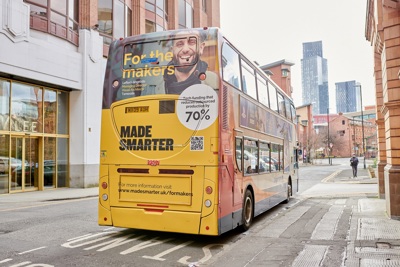 The Bury Black Pudding Company, which produces 85 tonnes of the traditional delicacy each week, has taken its first steps towards its ambition to create the world's first smart black pudding factory after working with Made Smarter on two projects. The first focuses on data and systems integration, the second is solving a specific challenge of inefficiencies in some of its key processes.
Richard Morris, Production Director, said: "Our ambition is to create the world's first smart black pudding factory. We have identified a pathway to achieving that ambition which starts with data and systems integration, then analytics, and automation. Working with the team at Made Smarter has accelerated our plan by years."
Bindatex, a manufacturer of advanced materials, worked with Made Smarter to develop a digital roadmap, bring in new skills with a digital internship, and invest in new technology to capture, analyse and manage production data. As a result, the business has seen productivity gains, lead times reduced and on-time delivery performance improved. The new capacity also gave Bindatex greater agility to respond rapidly to new business opportunities.
Chris Lever, Managing Director, said: "Our partnership with Made Smarter has been transformational. We developed a digital strategy and have invested in technology which has given us better control of our manufacturing.
"Made Smarter has had a cultural impact on the business. The apprehension has been taken out of digital technology and got everyone enthused and excited about the future."
ATEC Engineering Solutions designs, manufactures and repairs complex electronic and electro-mechanical equipment used in the aerospace, defence, nuclear, and oil and gas sectors. It worked with Made Smarter to create a digital roadmap and has started adopting digital tools which will create efficiencies and growth over the coming years.
John Bowden, Managing Director, said: "ATEC is typical of a lot of SMEs. It's not that we don't want to do things differently, it's that we don't know how to. It's finding a starting point. Made Smarter came into the business and highlighted the importance of data and system integration. This roadmapping process helped map our IT systems, show how disjointed they are and how to make a big difference with small changes. Now we are in a position where we are ready to adopt the right digital technologies."
Crystal Doors, a manufacturer of bespoke vinyl wrapped furniture components, worked with Made Smarter to create a digital roadmap, access digital interns, and technology projects to which are improving its efficiency, growth and sustainability.
Richard Hagan, Managing Director and Owner, said: "Crystal Doors' digital transformation started with Made Smarter. From the first meeting, their insight and advice have been invaluable in refining our project to become as focused and impactful as it is today.
"By capturing data from all our operations, we can make informed decisions that enable a more efficient factory and positive for the environment. The support from Made Smarter catapulted us along our journey."
Arden Dies, a tool and die manufacturer, has worked with Made Smarter to develop a digital roadmap, invest in new skills through the Made Smarter Leadership Programme and a Fast Track Additive Manufacturing programme, as well as capitalise on digital interns.
Sarah Poynter, Operations Director, said: "As a company we are at the start of a transformational journey. We have always invested in the best technology and machinery, but there are historic challenges that need our focus if we are to capitalise on the next stage of our growth.
"Digitalisation should be the focus for all manufacturers and Made Smarter is the perfect place to start."
Starlight Bedrooms, a manufacturer of customer bespoke furniture for houses, worked with Made Smarter to develop a digital roadmap which identified the opportunities to invest in new technology which integrates its design, production, sales and marketing operations. The result is that
The business has streamlined its processes, removed bottlenecks, reduced errors and waste, and become more efficient, productive and profitable.
Rob Langford, CEO, said: "Working with Made Smarter has been incredibly valuable. The experience of creating a digital transformation roadmap and the subsequent support and expertise has given us a lot of confidence to invest in the tools and technology we need to take Starlight Bedrooms to the next level."
Lynn Lloyd Soft Furnishings, a manufacturer of made-to-measure curtains and blinds, worked with Made Smarter to introduce new technology to streamline its manufacturing process.
Lynn Lloyd, Managing Director, said: "Working with Made Smarter was extremely easy. They gave us fantastic support and understood our needs. They have enabled us to use our time more effectively and increase the effectiveness of our production.
"Investment in a new computer system has streamlined our manufacturing process. We can now track orders quickly and move them through the factory with ease. This has enabled us to expand and take on new contracts. It has fundamentally changed how we operate and deliver to our customers."
450 manufacturers in Greater Manchester have so far benefited from support of the Made Smarter's programme of fully-funded intensive support which includes grants for technology, expert, impartial technology advice, and digital transformation workshops to help take their first steps to transform their business. Meanwhile, businesses have accessed digital technology internships which offer students and graduates paid placements to work on live technology projects, while current and future leaders have also developed the vision and the skills to pursue smarter manufacturing through the Made Smarter Leadership programme.
49 have secured in excess of £1.1M matched funding for 63 projects, worth £3.8M after private sector investment, which are forecast to create 264 new jobs, upskill numerous roles, and deliver an additional £44.5M in gross value added (GVA) for the regional economy over the next three years.
These technologies are helping integrate systems, capture and analyse data, and even create simulations of their plants and processes, to drive efficiencies and reduce waste. Other projects have introduced 3D-printing, automation, and robotics to solve business challenges and meet increased demand.
But given Greater Manchester is home to more than 6,000 manufacturers, employing 110,000 people and generating £8bn of economic output each year*, Made Smarter is determined to extend its offer of support to the SME's in this sector who often struggle to realise industry 4.0 transformation within their companies.
Donna Edwards, Programme Director for Made Smarter North West said: "The positive impact that Made Smarter is having on Greater Manchester's manufacturing businesses has been fantastic to see and we hope to replicate this across the North West.
"Our mission is to continue reaching out to the region's SME manufacturers to connect them to the tools that will make an everyday difference to their businesses. The campaign celebrates the local business leaders that have started their digital journey with Made Smarter and used new  technologies to grow their businesses.
"By showcasing their stories across Greater Manchester, we are communicating our key messages to those makers who may not be aware of our programme and what it could potentially offer their own businesses."
For more information, visit www.madesmarter.uk
ENDS
Editors notes:
*https://www.greatermanchester-ca.gov.uk/media/2132/gm-local-industrial-strategy-web.pdf
For all Made Smarter media enquiries contact Stuart Greer and Melanie Antao Fernandes at Antao Greer Communications on 07799 289650 or email stuart@antaogreer.com or melanie@antaogreer.com
About Made Smarter
Made Smarter is the UK national industrial digitalisation movement to drive productivity and growth of manufacturing industries and put the UK at the forefront of the 4th Industrial Revolution. Backed by world-renowned businesses and working in partnership with the UK government, Made Smarter will make a real, everyday difference to people from the boardroom to the factory floor.
Made Smarter was formed following a nationwide review into UK manufacturing that recommended key changes: more ambitious leadership; greater innovation in developing new technologies; faster implementation and adoption of these technologies; and deeper understanding of the sector's skills requirements. We'll be boosting digital skills in the sector, bringing businesses and R&D together to develop new technology, and helping makers embrace new digital tools. In doing so, we'll inspire the next industrial revolution and make the UK a leader in digital technologies. For more information, visit www.madesmarter.uk