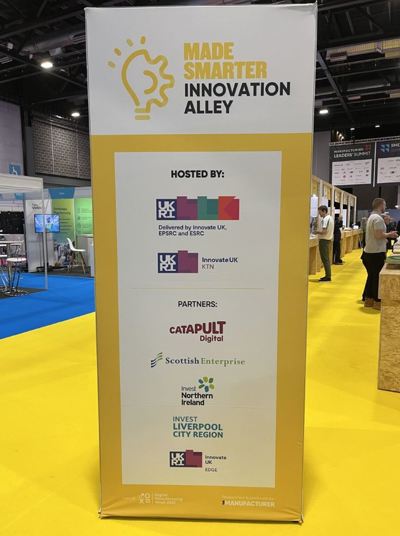 With almost 4000 people attending in Liverpool from the 14th – 18th November '22, the show brought together thousands of manufacturers, experts, innovators, influencers, journalists and students across a series of 12 events over 4 days.
The Innovate UK family were involved in lots of the events taking place at this year's show.

From Dr Megan Ronayne, Head of Innovate UK KTN's manufacturing team, running diversity and inclusion discussion round tables with key leaders from across the industry at the Leaders Summit, to Paul Gadd, Deputy Director for Innovate UK launching their 2050 Manufacturing Vision with a strong focus on reimagining materials and manufacturing together, there was a strong Innovate UK presence addressing challenges and looking forward.

Made Smarter Innovation had a large presence at the show. The main Made Smarter Innovation stand in the middle of Smart Factory Expo showcased the three up-and-coming competitions:

● MSI Digital Supply Chain Hub
● The MSI Ulster Smart Factory Test Beds Competition
● Collaborative Research and Development - Late Stage Robotics and Automation Industrialisation.

Keep an eye on KTN's competitions page for more details on up-and-coming competitions.
Made Smarter Innovation Alley housed 46 innovative industrial digital technology (IDTs) companies creating solutions across the Made Smarter 5 IDT areas: AI, Robotics and Automation, IOT and Data, VR & AR and Additive Manufacturing. The Alley was the beating heart of Smart Factory Expo showcasing a number of exciting technologies tackling new challenges and providing different ways of working. It captured the interest of almost everyone who attended the show. A STEM tour for schools, arranged on day 2 to inspire the manufacturers and engineers of the future, toured the Alley for inspiration.
21 companies from Innovation Alley took part in a bespoke investor readiness programme, receiving training on developing a value proposition, what investors are looking for, and how to pitch their innovation. The companies prepared one-page investment summaries which were sent to investors in advance of the event and their pitch was recorded during the event. An investor approached one company ahead of the pitch based solely on the one-page summary. Introductions between investors and companies are ongoing.
The Made Smarter Innovation Theatre at Smart Factory Expo attracted a wide audience of manufacturers, innovators, academia and experts to share case studies. In a series of seminars, they explored topics such as perspectives on the main challenges and opportunities for diversity and inclusion in manufacturing, introducing the research centres involved in the programme and the launch of the 3 main competitions.

One of the key highlights from the show was the 'Manufacturing Wall' where visitors to the show were asked to answer the question – "What does Manufacturing Mean to you?" It was interesting to see the diverse and well-thought-out comments from people and the opportunity to innovation and sustainability.
Mat Wasley who leads on Made Smarter Innovation Alley for KTN said, "Manufacturing is such a great place to be just now and that was so apparent from the buzz around this year's Digital Manufacturing Week. It was great to be able to share details on the 3 up-and-coming competitions to start driving interest and help companies form collaborations. There were a number of exciting young businesses on Innovation Alley this year with technologies that are going to transform the manufacturing sector and we are excited to be working with these businesses to make change happen."
We are taking an early interest in being part of Made Smarter Innovation Alley 2023. If you are interested in getting involved please register your interest on this form or contact Mat Wasley at Innovate UK KTN.