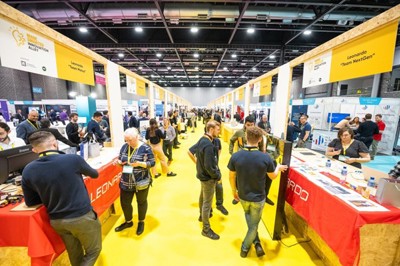 Made Smarter Innovation Alley is the UK's primary showcase of new, disruptive, innovation digital technologies for the manufacturing sector.  It runs through the heart of Smart Factory Expo, the exhibition area of Digital Manufacturing Week taking place in Liverpool on 16 and 17 November 2022.  
We've got some really exciting businesses already signed up to exhibit in 2022, boasting highly innovative digital technologies to power the smart factory revolution.  Meet the first 8 companies below:
SparkIntelligence provides end-to-end consultancy services to organisations of all sizes who may be looking to implement or test computer vision use cases from requirements elicitation, data acquisition, data preparation, and algorithm development to deployment using our computer vision platform, "SparkFlow".
"SparkFlow" enables organisations to accelerate and simplify the process of implementing computer vision applications, from initial proof of concepts to state-of-the-art artificial intelligence models, ready to be integrated within our custom hardware device or deployed either as a cloud software service or on a customer edge device, enabling manufacturers and supply chain to add AI to their existing infrastructure without the need for any new hardware.
Currently deployed solutions include pallet racking defect detection, PPE compliance detection, footfall tracking, object counting, stock counting and inventory management.
Michael Olabode, CEO of Spark Intelligence said, "We are interested in being part of the Made Smarter Innovation Alley as it gives us an excellent platform to showcase our technology. It is also the ideal meeting place for us to network and engage with prospective customers and partners, all under one roof."
Globally there are 375m workplace injuries and 380k fatalities every year, costing over $1.1 trillion. Human error is a factor in over 90% of these incidents. Our risk of error fluctuates constantly. Factors such as lack of sleep, distraction, boredom, stress and anxiety can all lead to an increase in risk of even momentary lapses in focus or judgement, but these are difficult to track and even harder to predict. Particularly at any sort of scale.
Developed by neurotech start-up FC Laboratories, CoreTech is a wearable worker wellbeing solution which tackles this problem head-on. Patent pending technology provides individuals, teams and businesses with data which identifies, quantifies and predicts the risk of human error, enabling them to reduce errors and mistakes, avoid accidents and injuries, optimise performance, improve mental health & wellbeing and increase productivity and profitability.
CEO Mathew Norbury said, "Our focus to date has been 'hard hat' sectors such as construction and engineering, but we are keen to build engagement with the manufacturing sector to raise awareness of what we're doing, get feedback from potential customers (or other partners), add manufacturing companies to our Validation Group (with field trials underway from October 22) and identify potential partnership/collaboration/integration opportunities with other technology solution providers. Innovation Alley is an ideal way to do this."
Luffy AI develops adaptive neural networks that allow learning and adaptation at the edge. We develop AI control systems that can learn the nuances of the process being controlled and adapt to changes over time to maintain optimal process efficiency. We are currently deploying one of our adaptive AI controllers into a composites process with a UK SME. The AI will replace conventional PID controllers and allow better control of the temperature profile, reducing the tuning time of the process and increasing overall throughput and efficiency. This technology is suitable for any industrial process that is sensitive to environmental parameters, feedstock changes, or generally difficult to tune.
"We are excited to be part of the Made Smarter Innovation Alley as we would like to engage with Industry 4.0 OEMs and manufacturers, particularly organisations in materials, forming & foundation industries." said Matthew Carr, CEO.
Vu3 has a suite of 3D immersive solutions which provides a 3D digital twin for manufacturers with integrated digital content and Real Time data streaming info from IOT sensors or activators, allowing stakeholders to immerse themselves in a manufacturing space, gather info without being there in person.
Live Visuals along with IOT controls can provide Live Data. 3D Digital twins can also be used as multi-tools such as training, data capture, or part of a more unified digital system.
Director Ben Ghazani said, "Made Smarter Innovation Alley provides us with a fantastic opportunity to interact with manufacturing partners and clients and demonstrate how the 3D digital twins can deliver real-time data capture without physical visits."
Q5D - Automating wiring harness manufacture
Q5D makes equipment that uses 5 axis 3D printing and other techniques to automate the process of adding electrical functions, components and wiring, to complex shaped components such as an injection moulded part, or composite panel.
Operations Manager, Peter Todd said, "Made Smarter Innovation Alley is a great place for us to raise awareness of the opportunities our technology offers to Aerospace, Automotive and other manufacturing sectors."
Clyde Hyperspectral Imaging and Technology Ltd., (ClydeHSI) are specialist in hyperspectral imaging and optical spectroscopy and provide a wide range of both hyperspectral and conventional spectroscopy instruments and full systems. Their products are supported by leading software for data acquisition, analysis and display to ensure robust, reliable, accurate and repeatable hyperspectral imaging measurements across a range of academic and industrial applications.
John Gilchrist, Managing Director said, "We are coming on the Alley to increase our exposure to new companies across a wide range of sectors including food and beverage, food packaging companies and machine vision integrators."
Their RFID asset tracking solution, Stokware, helps businesses to have a bird's eye view of where their assets are at any time. It is an innovative RTLS (Real Time Location System) that is easy to use and brings many benefits for SMEs. It allows for intelligent picking of stock from warehouses, root cause analysis in the event of problems and real-time reporting to ensure that critical targets are met.
Operations Director, Sujita Purushothaman said, "Made Smarter Innovation Alley is a great opportunity for us to meet customers, partners and suppliers. We want to show SMEs how easy it is to use Stokware and highlight where it can really add value."
Observant Innovations designs and manufactures solutions for inspection, monitoring and surveillance challenges. Their APERTURE imaging workbench can capture, manipulate, process and store, in real-time, very high-quality imagery for professionals in many different use cases, including emergency services, military, inspection and monitoring, safety and security.
John Scholes, Chairman said, "Made Smarter Innovation Alley will give Observant the opportunity to show its capability to prospective users, particularly in precision manufacturing and complementary technology providers of sensors, lighting, optical components and robotics."
There are only 18 fully funded places left on Innovation Alley 2022. If you have innovative digital technology that will transform manufacturing, sign up here or speak to Mat Wasley to find out more.