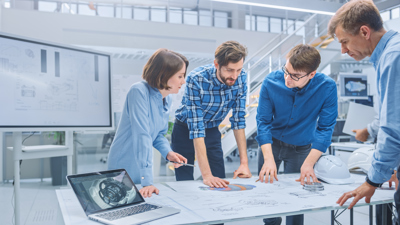 Made Smarter has an integrated approach across leadership, skills, innovation, and adoption. The Innovation Challenge focuses mostly on research and innovation across multiple sectors and how digital technologies such as AI, Robotics & Automation, Additive Manufacturing, AR/VR, IIoT, and Digital Twins can make the manufacturing supply chain processes more efficient and productive, whilst creating company growth.
The Made Smarter Research Centres and Innovation Hubs represent a key component in the UK's approach to commercialising emerging technologies and creating that national-level growth element through creating early-stage, transformative innovative ideas, that cover both the technological and societal aspects. The centres and hubs target a specific area to drive that growth and collate engagement across the entire innovation landscape.
The webinars are a platform to come learn, ask questions, network, and form connections with people across industry, academia, and government.
About the events:
Within this webinar series, we will hear from the research centres and innovation hubs, funded through Made Smarter Innovation, to better understand what their key focus areas are, what innovative technologies they work in, and which sectors they cover. We will also learn about successful case studies, funding opportunities, and how people can get involved to collaborate with the centres.
The webinars will be open to anyone interested in learning more about these innovative ideas and digital technologies, not only from a manufacturing background, but any sector curious about the innovation of future technologies to drive their business forward, with growth opportunities and numerous other benefits. 
20 September 2022
Introducing the Research Centres & Innovation Hubs: Materials Made Smarter Research Centre
12:00-13:00
The Materials Made Smarter Centre is working towards the digitalisation of the materials-intensive industries, such as metals, ceramics, and composites. This centre researches underpinning digital technologies and is developing an understanding of the social and organisational changes that will be required to adopt digitalisation of materials, and is demonstrating this within the partnership EPSRC Future Manufacturing Hubs.
27 September 2022
Research Centre for Smart, Collaborative Industrial Robotics
12:00-13:00
Made Smarter Innovation's Smart Robotics Centre, is a collaboration between 6 leading UK universities: Loughborough, Cranfield, Strathclyde, Dundee, Warwick and Bristol with Loughborough University as the lead. The academic partners involved have significant complementary experience and are enhanced by experienced researchers and doctoral researchers. There is a strong relationship between academic and industrial partners. The aim of the Centre is to advance Smart Manufacturing by eliminating barriers and accelerating widespread use of smart, collaborative robotics technology to unlock the full potential of the UK industry in productivity, quality and adaptability. In this webinar, we will present details about the Centre and the latest activities that are currently underway. In addition, he will highlight the range of opportunities within the Centre for industrial engagement.
4 October 2022
Introducing the Research Centres & Innovation Hubs: Centre for People-Led Digitalisation
12:00-13:00
Digital technologies have the potential to transform manufacturing by increasing productivity and opening up new business opportunities. However, the UK has had lower levels of adoption than some of our competitors. While this may appear a purely technical challenge to overcome, in practice many of the most pressing barriers can be attributed to a 'human' element e.g., a digital skills gap, implementation that fails to support human capability, employee resistance and a lack of senior management support or vision. The mission of the Made Smarter Innovation: Centre for People-Led Digitalisation is to create "needs-driven" processes to support the industry in realising the potential of a people-led approach to digitalisation. The webinar will give an introduction to the people and the research being conducted within the Centre and provide details on how you can get involved with our work.
11 October 2022

Research Centre for Connected Factories

12:00-13:00
The Made Smarter Research Centre for Connected Factories proposes a radical new approach to building the manufacturing infrastructure of the future with the aim to provide UK industry with a blueprint for a unique connected network of future smart factories. It will show how manufacturing operations can become more resilient and able to respond to changes such as product demand or volume through research in system design, modelling, control and integration, as well as a set of application studies addressing emerging industrial needs. The seminar will focus on describing the industrial application studies ranging from factory level digital design and integration to advanced control techniques for individual processes such as adaptive accurate machining and 3D printing. In it we will describe the problems that such technologies and techniques are trying to solve; how they could be applied across multiple sectors, products and processes and how businesses can get involved throughout the programme.  
18 October 2022
Medicines Made Smarter: Data, AI, Robotics and the future of medicines manufacturing
12:00-13:00
Centre Overview: Made Smarter Innovation | Digital Medicines Manufacturing research centre (DM2) is an ambitious 3.5 year programme. It aims to advance medicines development, manufacture, quality control (QC) and supply through the creation and accelerated adoption of data-driven Industrial Digital Technologies (IDTs) including AI, robotics and digital twins. 
To achieve this, work is being carried out across five integrated research platforms:
Platform 1: The Data Platform
Platform 2: Autonomous Microscale Manufacturing
Platform 3: Digital Quality Control
Platform 4: Adaptive Digital Supply
Platform 5: DM² Network & Skills
Led by the Centre for Continuous Manufacturing and Advanced Crystallisation (CMAC) at the University of Strathclyde in collaboration with the universities of Cambridge and Loughborough, each Platform team not only works closely with each other but with industry partners from across the whole medicines manufacturing community. 
Webinar Overview: DM2 is a flagship programme in CMAC's research portfolio. It's agenda aligns with CMAC's wider ambitions to digitalise Chemistry, Manufacturing and Controls (CMC) and create the 'Lab of the Future', along with the skilled workforce to operate seamlessly and effectively within it. In this webinar, you'll hear from Prof. Alastair Florence, DM2 PI and others as they introduce you to the early demonstrations in AI, robotics and more that they are working on to make the future a reality. 
Join us on 18th October, 12:00 – 13:00 to start your digital CMC transformation journey with us. 
25 October 2022
Introducing the Research Centres & Innovation Hubs: InterAct
12:00-13:00
InterAct is a £4.4 million, Made Smarter Innovation funded, Economic and Social Research Council-led network that aims to bring together economic and social scientists, UK manufacturers, and digital technology providers to address the human issues resulting from the diffusion of new technologies in the industry. Our long-term vision is to build a strong, vibrant, interdisciplinary community to support UK manufacturing in the adoption and development of digital technologies that will result in a stronger, more resilient, manufacturing base. The future of manufacturing is dependent on successful digitalization, but UK manufacturers struggle with their investments in digitalization. This threatens lost business opportunities and missed innovation cycles. What can we learn about digital technology adoption from history? As part of the InterAct network, an interdisciplinary team from Aston and Cranfield Universities is reviewing historical cases of industrial transitions. By identifying cases related to mechanisation, electrification and computerisation, we aim to support the successful adoption of industrial digital technology for the digitalisation of manufacturing. As part of the InterAct Network, a team from Aston University is using a systematic literature review method to identify the range of technological, organisational, and social barriers that inhibit effective digital investments and how manufacturers should overcome these. The webinar will present the findings of the research and outline how future research could support UK manufacturers with their digital investment challenges, as well as showcase the work being undertaken to bring historical technology adoption stories to life, to help address the human side of digitalisation.
1st November 2022

Made Smarter Innovation - Digital Supply Chain Hub

12:00-13:00

The Made Smarter Innovation - Digital Supply Chain Hub is a digital innovation ecosystem that empowers individuals and organisations to work together to make supply chains smarter.
Developed by Digital Catapult and funded by the Made Smarter Innovation challenge at UKRI, the Hub will transform UK manufacturing by accelerating digital innovation – making supply chains more efficient, resilient and sustainable.
8 November 2022
Introducing the Research Centres & Innovation Hubs: Smart Factory Hub
12:00-13:00
Smart Manufacturing Data Hub (SMDH) supports small and medium size manufacturers to capture and better utilise their data, helping them increase productivity, growth and sustainability. Businesses in sectors spanning from food and drink, aerospace, and many more will be supported to develop, test, and adopt the latest data-driven technologies. In this webinar, businesses will learn more about what support is on offer at the SMDH Centre, the benefits it will have for their business, and the funding options that are available.
Register Here