A generation of manufacturing leaders is now armed with new digital skills and tools after graduating from a trailblazing programme.
Fifteen delegates completed the 'Leading Digital Transformation' programme, designed by Made Smarter, the government-funded industry-led initiative to increase technology adoption among SME manufacturers, and Manchester Metropolitan University (Manchester Met).
Delivered through a blend of face-to-face workshops, online webinars, case studies to see technology in action, and a site visit to PrintCity, Manchester Met's 3D additive and digital manufacturing centre, the funded programme empowers participants to create a bespoke digitalisation strategy for their business.
It also provides them with a set of practical tools to make the most of opportunities that digital transformation can offer and access further support from Made Smarter, including funding for new technology and specialist advisers.
Companies who recently completed the three-month fast-track programme include: FRC Group; Ajax Equipment; Harten Frameworks; Greer Manufacturing; Logs Direct; BEP Surface Technologies; AV Metals; Rapid 3D Solutions; Playdale Playgrounds; Slater Harrison; Beverston Engineering; Liversidge Windows; CNC Robotics; and Arden Dies.
75 digital leaders have been supported over the past four years through the inaugural Made Smarter programme and more recently, Leading Digital Transformation, which is now recruiting for its next cohort of businesses. Manufacturers across the North West are now being encouraged to register their interest for the next intake, starting in early September 2023.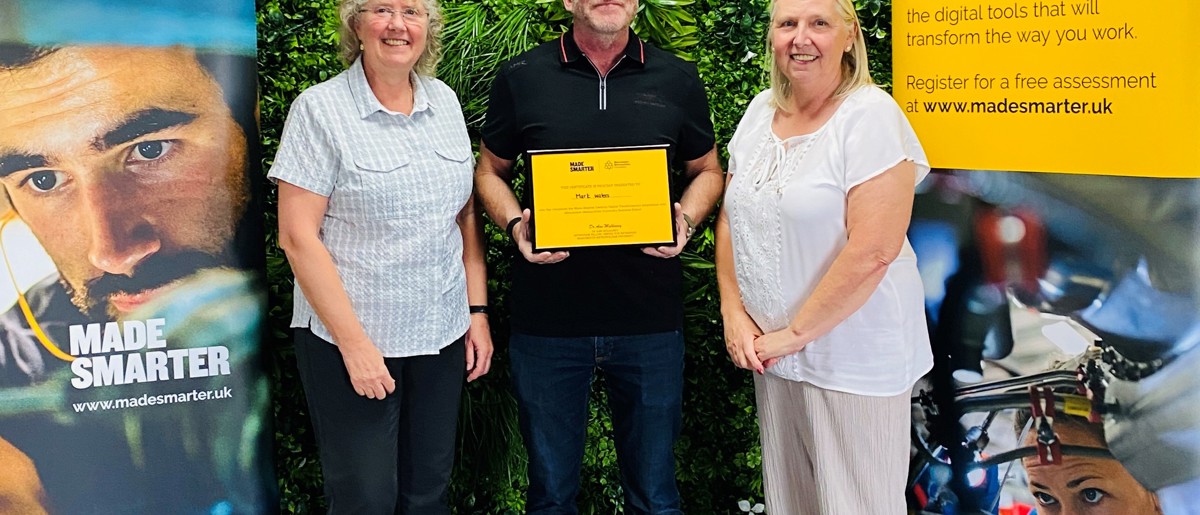 Mark Waters, co-owner of Bolton-based Ajax Equipment, which makes powder and bulk solids handling equipment, said: "The programme has been hugely beneficial to my own professional development. It demonstrated what we are doing right as well as what we could do better, and crucially, gave me the tools to do it. It has changed my mindset and approach to adopting technology and the need to create a strong and informed leadership team to drive change and reshape the business for future challenges."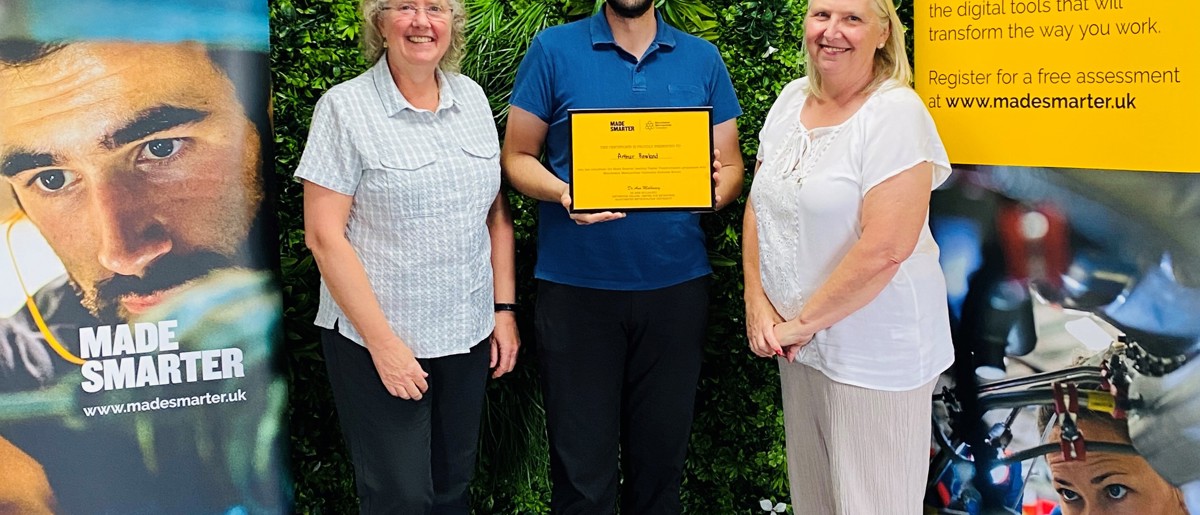 Arthur Rowland, Process Improvement Business Partner at Liverpool-based FRC Group, which operates social furniture recycling business Bulky Bob's, said: "The programme was incredibly useful in setting the scene for digital transformation, and the tools needed to secure stakeholder buy-in for change at all levels. It helped avoid the trap of focusing on the technology alone, which is only one factor in a successful change project. It was great to meet a range of businesspeople in diverse SMEs who all had lots to contribute and share." setting the scene for digital transformation, and the tools needed to secure stakeholder buy-in for change at all levels. It helped avoid the trap of focusing on the technology alone, which is only one factor in a successful change project. It was great to meet a range of businesspeople in diverse SMEs who all had lots to contribute and share."
Liz Foulds, Finance Director of Lancaster-based Logs Direct, a manufacturer of fuel products, said: "We are on a journey to digitalise and decarbonise. To make the right decisions at the right time we have needed a digital strategy and roadmap. This leadership programme and other support from Made Smarter has helped accelerate us forwards. "The leadership programme has given me valuable time away from the business to focus 'on' the business. It has been fantastic to connect with other manufacturing leaders who share similar challenges. I have learned the importance of engaging in stakeholders and staff while enacting change. Change is a good thing but it has to be managed well."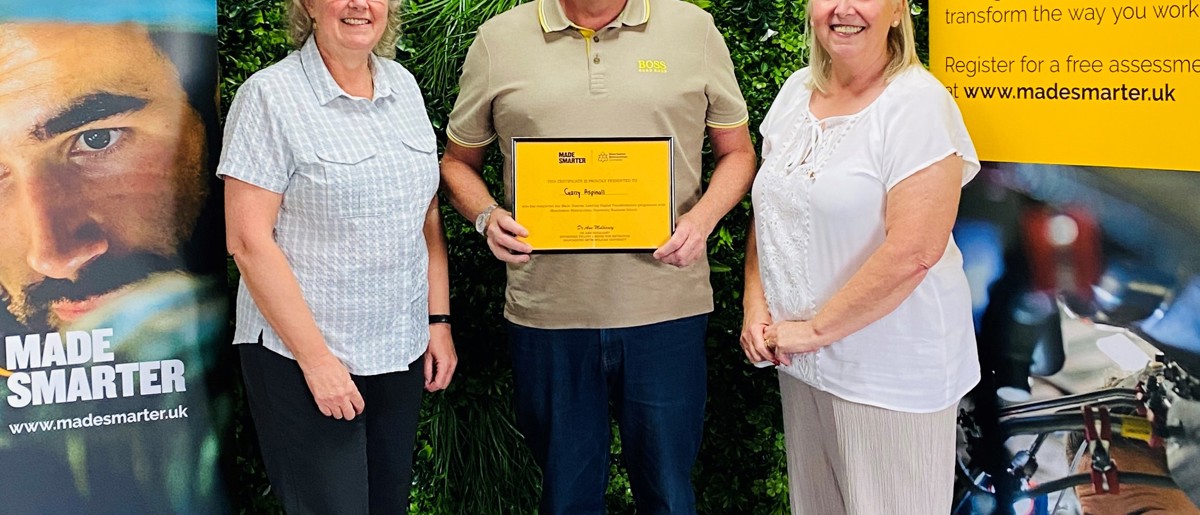 Garry Aspinall, Operations Director for BEP Surface Technologies said: "For the last four years we have worked closely with Made Smarter to explore the skills and technologies needed to achieve our ambition to be number one provider of electroplating & precision grinding in the UK. The leadership programme has been an enormous help in cementing the message that digitalisation is vital to improve us and prevent us being left behind. I found the course enjoyable & the experience invaluable in helping to identify our digital strategy. My job is now to embrace the tools I have learned from the programme to lead the business forward."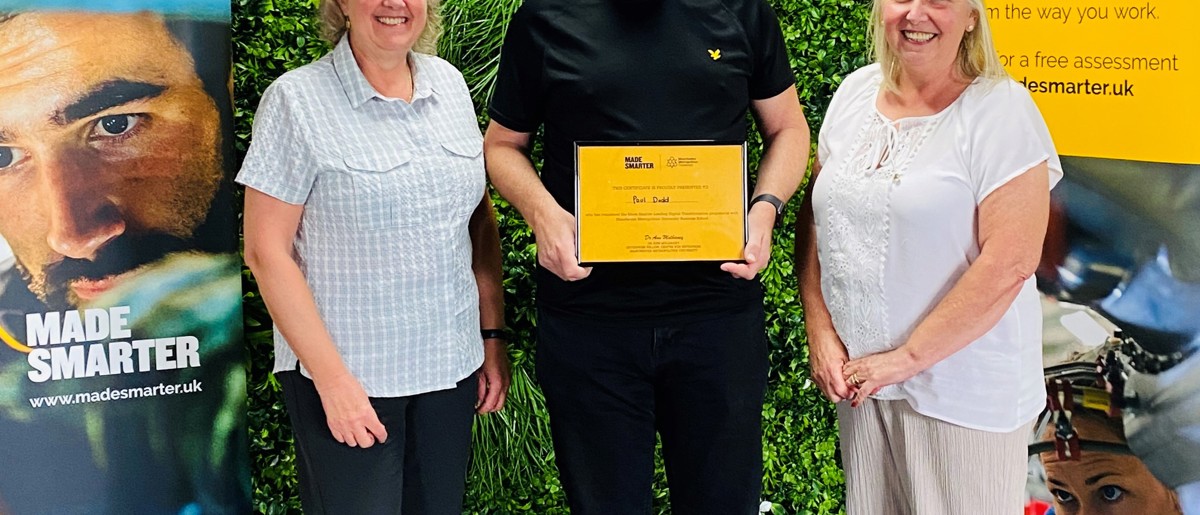 Paul Dodd, Managing Director of Northwich-based Rapid 3D Solution, manufacturers of retail and point of purchase displays, said: "The knowledge and tools I have gained from this programme is worth its weight in gold. I have been able to create a digital roadmap and learnt the power of collaboration when it comes to digital transformation. "Made Smarter has helped us pursue our ambition to be a high touch, customer-focused manufacturing business underpinned by a continuous improvement mindset."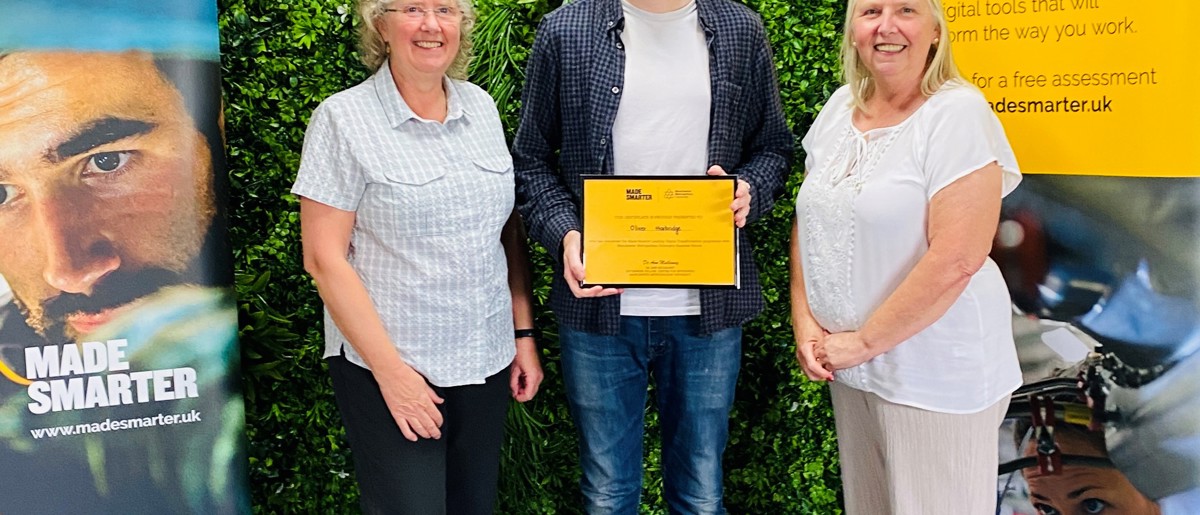 Oliver Harbidge, Head of Digital Development, at Ulverston-based Playdale Playgrounds, a playground equipment maker, said: "The leadership programme has been a huge help for my personal development and for our business, many of the management tools discussed on the course are already being used to great effect. "A key takeaway was the importance of ensuring digital change is implemented operationally as well as culturally. One without the other will not work. It is also very important to manage stakeholder expectations when it comes to introducing change and digital transformation. "The course content was excellent as someone new to management. I now have a clear path outlined that addresses exactly how we are going to move forward digitally."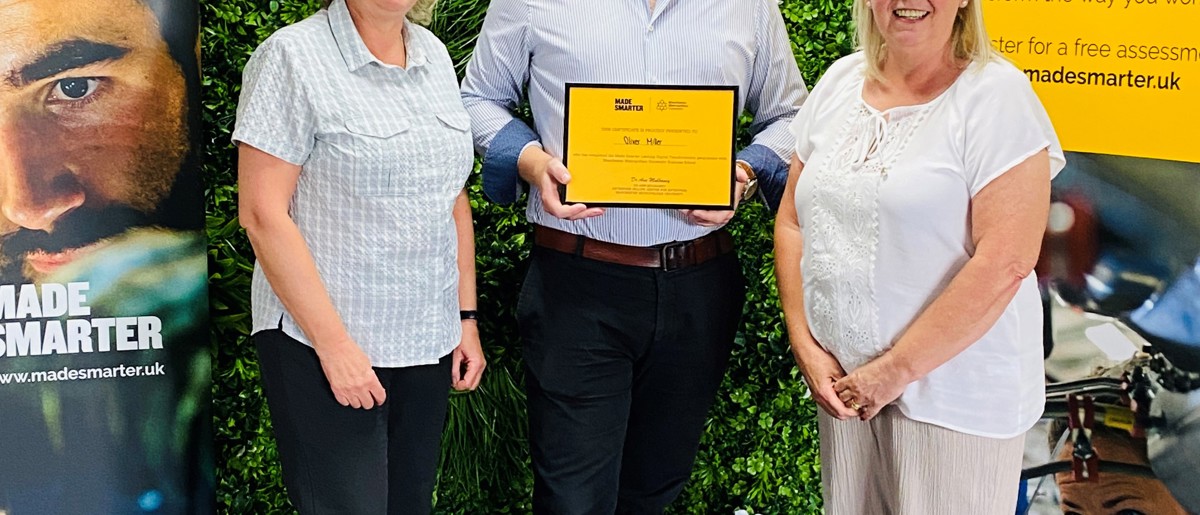 Oliver Miller, Industry 4.0 Project Manager at Knowsley-based Beverston Engineering, a precision component manufacturer, said: "We have been on an incredible journey over the last few years, supported in part by Made Smarter, to create a smart factory and become an exemplar for other SMEs pursuing the same ambition. "The leadership programme has been a fantastic opportunity to engage with a network of business leaders on the same journey, all with their own stories and insights."
Ian Liversidge, Managing Director of Oldham-based Liversidge Windows, manufacturers of windows, doors and conservatories, said: "For the last half a century we have maintained a traditional way of operating which is very manual and not using much in the way of digital tools and technologies. "The leadership programme has given me important time to work on the business and explore how we can improve every area, from customer management and design through to manufacture and installation. "As a business we are only just starting to explore how we work more efficiently to support our growth plans, but recognising the challenge and opportunities is the first step."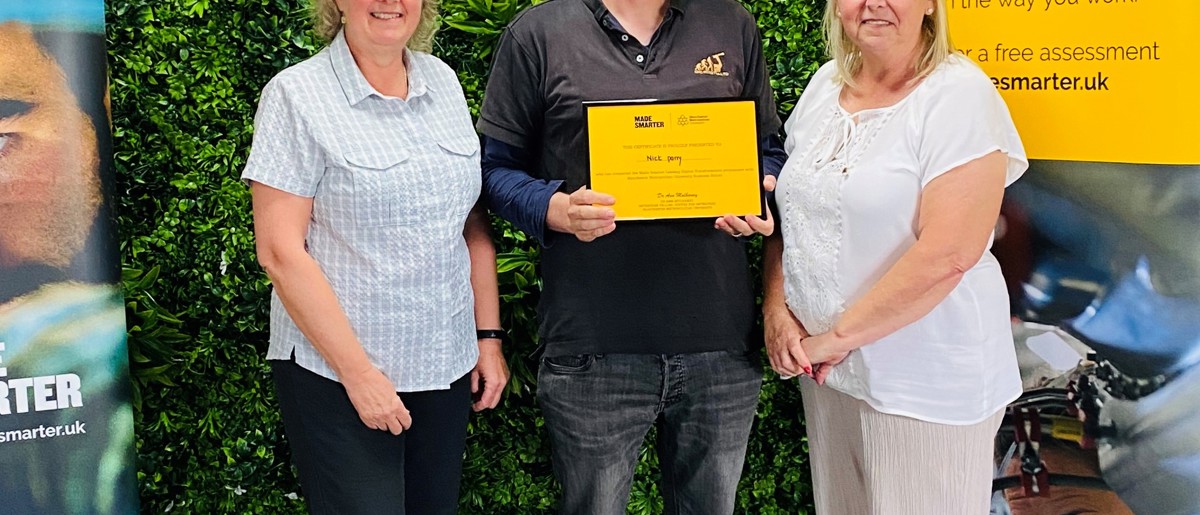 Nick Parry, System Engineer and Project Manager at Liverpool-based CNC Robotics, a robotics integrator, said: "The leadership programme has been really helpful for the business. "There is a danger when it comes to the adoption of technology that the digital solution is the priority, when in fact bringing people along for the journey is most important. If you can change the culture then it will stick. Communication with the workforce and other stakeholders can ensure ideas and technologies are adopted right the first time."
Reflecting on the success of the programme, Donna Edwards, Director of the Made Smarter Adoption Programme in the North West, said: "Technology and digital strategy have proved a great benefit to manufacturers over the last few years as they have navigated a multitude of crises. They will be even more important to navigate future challenges and opportunities. But it's clear that leadership and digital skills are needed to ensure businesses, especially SMEs, are properly equipped to deal with what lies ahead.
"Our mission is to develop a generation of digital leaders. I am delighted to celebrate the graduation of this latest cohort who have seen the value of taking time out of their businesses to share ideas and experiences and return with new ideas and a digital strategy to create sustainable growth."
Dr Ann Mulhaney from the Centre for Enterprise at Manchester Met, said: "We're thrilled by the feedback of our first cohort, helping these business leaders at such a critical time for the industry.
"We look forward to working with the next group of participants as we collaborate on Made Smarter's vision to create digitally-empowered SME manufacturers."
Ruth Hailwood, Made Smarter's Organisation and Workforce Development Specialist Adviser, said: "This programme is designed to be flexible for manufacturing leaders to fit around their busy schedules, allowing them to take time out of their business to reflect on the bigger picture and share ideas, experiences and opportunities with their peers in manufacturing.
"It focuses on strategy and how to identify critical priorities for taking a business forward, as well as highlighting where digital tools can help."
Since launching in 2019 Made Smarter has supported 2,500 manufacturers in the North West to access expert, impartial technology advice, digital transformation workshops to help take that first step to transform a business, and support with technology adoption projects.
The programme is available by application to leaders from North West-based SME manufacturing businesses with fewer than 250 employees and a turnover of less than £50 million or a balance sheet total of less than £43 million.
For more details visit: https://www.madesmarter.uk/adoption/develop-your-digital-leadership/leading-digital-transformation-programme-nw/