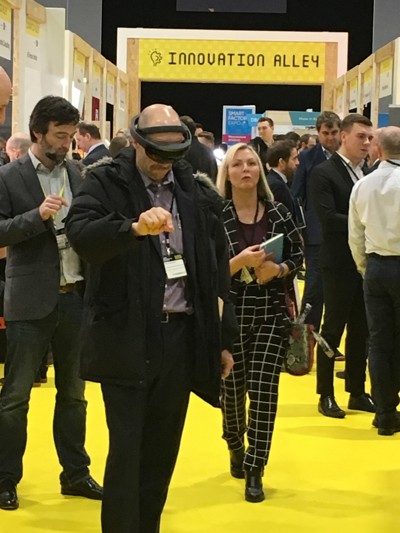 Are you a UK based digital tech provider who hasn't exhibited on Innovation Alley previously?
Are you less than 5 years old or have less than 10 staff?
Do you have an innovative product/service targeted at manufacturers?
If so, why not join us on Innovation Alley at Smart Factory Expo, the exhibition running alongside Digital Manufacturing Week, to showcase your game-changing innovations to the UK's manufacturing sector.
KTN and Innovate UK have been working alongside the organiser, The Manufacturer, to enable 50 of the UK's most innovative businesses to exhibit FREE and in-person on Innovation Alley on Wednesday 10th and Thursday 11th November 2021 in Liverpool.
Companies exhibiting on the Alley will have the opportunity to take part in the Made Smarter Investor Readiness Programme to access support to refine their investment proposition and pitch their digital manufacturing idea to a panel of investors.   Also, companies have the opportunity to give a 20-minute presentations in the Solutions Theatre.  If you are interested in speaking, or if you would like to recommend suitable manufacturing colleagues or associates who have a background in the following areas, then please click here to make a submission.
Digital Transformation
Industrial Data and AI
IIoT and Connectivity
Automation and Robotics
Advanced Manufacturing Machine Tools & Technology
Leadership and Strategy
Product Innovation
Smart Infrastructure
Digital Lean
AR and VR
Running alongside Innovation Alley, the Emerging Technology Show will showcase the landscape of low TRL research being undertaken to support digital manufacturing innovation in UK academic institutions.
Register your interest today in taking part in Innovation Alley.  If you would like to discuss this opportunity further please speak to Matthew Wasley at KTN.
Register now
Highlights from 2019's Innovation Alley