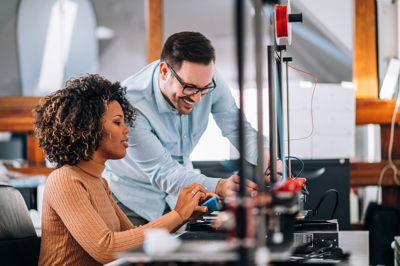 Deploying technologies and processes can make manufacturing more flexible. By adopting flexible manufacturing processes, manufacturers can adapt to changes in the type and quantity of the product being manufactured. Machines and systems can be changed to manufacture a variety of parts and deal with changing levels of production. 
Utilising these flexible manufacturing processes results in multiple advantages including reduced manufacturing costs, increased machine efficiency, improved product quality, increased system reliability, shorter lead times and increased productivity.
Our next event on Tue 29th June in the Making Manufacturing Smarter series will explore the opportunities and benefits of flexible manufacturing.  We will be joined by global healthcare company GSK who will tell us how they have introduced modular manufacturing into their production facility with the help of Zeton, the world leader in design and fabrication of pilot plants. Software company Perceptive Engineering will share their journey on integrated process monitoring and control for various sectors and will then give an overview of some modular manufacturing projects they have worked on. We're also joined by Centre for Process Innovation Limited (CPI), a UK-based technology innovation centre and part of the HVM Catapult Centres, who will provide insights into the benefits of flexible manufacturing within the area of Biologics.
Find out more and register