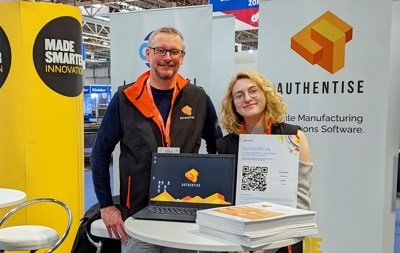 Made Smarter Innovation Alley alumni company Authentise exhibited on the Alley in 2021.  At that time Authentise were considering a change of focus for the business, so they needed to have some 'meaningful conversations' with customers, stakeholders and potential partners to obtain practical feedback on their business shift.
Authentise was considering an introduction of a new set of software tools, focussing on collaborative digital threads for industrial engineers and digital decision making.  This represented an expansion of their existing manufacturing workflow management tools that had been focussed on the additive manufacturing space.  Discussions on the Alley were pivotal to the business, validating their thinking.  They brought a set of assumptions, hypotheses, and key problem statements with them to the show and used live conversations to either prove or disprove their theories and ideas.
Keith Perrin, VP of Agile Manufacturing Software said, "The audience coming through Innovation Alley was perfect for us to discuss our assumptions and better understand their real manufacturing challenges. We spoke with numerous companies and organisations who confirmed our thinking that our industry was lacking effective ways to connect their digital threads; Linking data, personnel, tools & systems across their value chains and lifecycle . Essentially they were struggling to ensure different departments within their organisation were talking to one another, in the agile ways they wanted. One aircraft manufacturer, in particular, was extremely interested, even going as far to explicitly document a number of key use cases for us. This was 'gold dust' as far as our expectations for this event were concerned."
Authentise provided some practical advice for companies attending in 2022.
- Try and get as much interaction as possible. Be ready to take on new ideas and insight. Don't be defensive
- Contact people in advance. Promote the event, and your participation socially. Invite people to check your ideas out
- Put out flyers at presentation stands and in networking areas
- Create mock-ups of what your solution will look like
- Create interactive tools  so people can 'experience  your ideas
-  Describe your solution clearly and practically
- Describe what it can do, succinctly, without jargon, and what it can't!
- Be ready to validate the problem that your solution solves, and the benefits it brings.
Keith said, "Having the opportunity to attend Innovation Alley through an introduction from Innovate UK KTN was key to providing initial validation of some essential starting assumptions we had for our new initiative for collaborative engineering and manufacturing.  
The Alley gave us the opportunity to have direct, meaningful, first hand 1:1 discussions with both customers and prospects. We were able to viscerally understand key pain points around how industrial engineering and manufacturing organisations collaborate on their biggest challenges. It's something we now think we're in a unique and exciting position to solve. Off the back of these discussions, we're heading in a direction that puts the excitement where it needs to be... with future customers and their challenges."
There are only a few fully funded places left on Innovation Alley 2022.  If you have an innovative digital technology that will transform manufacturing, sign up at https://www.digital-manufacturing-week.com/innovation-alley-funded-stand or speak to Mat Wasley at Innovate UK KTN to find out more.