Held on 13th October, at AMRC North West, near Blackburn, the event brought together start-ups and scale-ups from across Lancashire with exhibitors like Boost, Innovate UK, the Department for Business and Trade, and Made Smarter.
Miranda Barker OBE, East Lancs Chamber CEO, and the Lancashire Enterprise Partnership's energy and low carbon lead said: "The emphasis on cross-sector collaboration, and commercialising the net zero solutions being developed right here in Lancashire, is central to the LEP's energy and low carbon sector group's strategy, and it's been a great example of the partnership approach we are taking to support innovation-led growth across the county, for the good of our local economy and the global environment."
Made Smarter NW was also exhibiting at the event. Made Smarter is a government-backed initiative, providing grant funding and skills and leadership training to SME manufacturers across the North West. And our team had a great day of networking, learning, and meeting potential clients.
Here are five fascinating insights we learned from the day: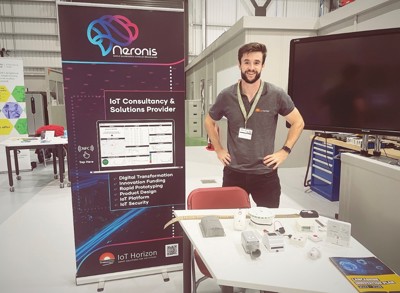 Lancashire businesses are embracing IIoT
The Industrial Internet of Things (IIoT) is a disruptor to many businesses and industries, redefining what is possible and creating more flexible solutions.
We caught up with fellow exhibitor IoT Horizon who received grant funding from Made Smarter in 2000.
Technical Director Tom Allen explained how they are now providing sensors to manufacturers and smart buildings to aid with energy management.
The digital transformation consultancy, based in Rawtenstall, developed their own IIoT solutions and they actually provided assets and people tracking into the AMRC, which is pretty cool.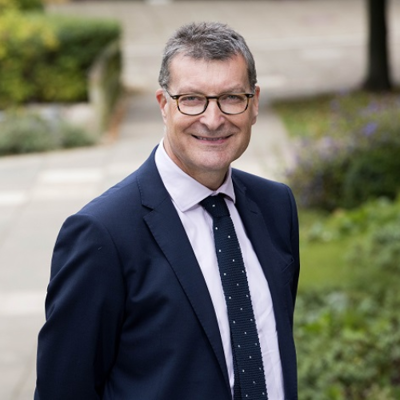 Universities in the North are pivotal to industrial innovation
Not only is the AMRC part of the University of Sheffield, but there was a strong presence at the event from other Higher Education providers including Edge Hill University and the University of Central Lancashire (UCLAN).
Graham Baldwin, Vice-Chancellor of UCLAN and Chair of the Lancashire Innovation Board opened the event, welcoming delegates to the £20m facility which showcases advanced technology to SME manufacturers and makes it accessible to support them with their projects.
He said: "The Lancashire Innovation Festival continues to go from strength to strength, and this year's focus on finance, energy, and low carbon highlights how it continues to address the issues which really matter to Lancashire businesses."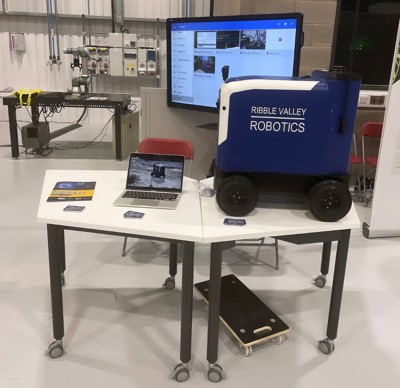 Robots are being developed to deliver shopping and takeaways
One of our favourite discoveries of the day.
Ribble Valley Robotics design, manufacture, and operate urban delivery robots from Lancashire. Using sustainable, advanced manufacturing, eco-friendly natural fibers, and bio-resins, not only does the delivery method have a low carbon footprint, but the manufacturing process does too.
We took a look at their prototype V2 urban delivery robot which is still in R&D, but it doesn't stop it from being pretty fascinating.
The aspiration is to get robots to deliver shopping and takeaways to people in urban landscapes.
When asked by the team why drones are not a more obvious choice, director Mark Wingad made the point that wet and blustery weather, which we often experience in the North West, makes it very difficult for drones to operate regularly.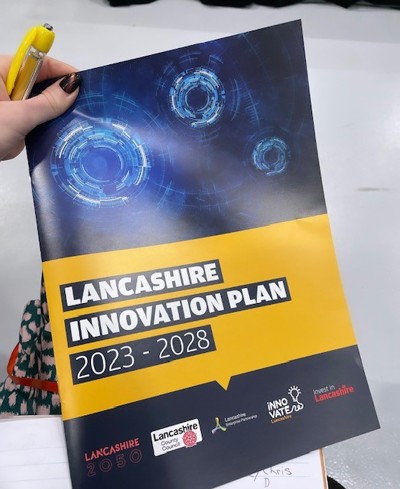 The launch of the Lancashire Innovation Plan
There's a lot happening in Lancashire at the moment around innovation.
Cue the Lancashire Innovation Plan which was distributed at the event and makes for very interesting read.
Developed by the Lancashire Innovation Board it is essentially a blueprint for growth in the region and highlights some of the opportunities offered by projects like the National Cyber Force and Eden Project Morecambe.
Highlights include:
· Lancashire's regional economy is one of the largest In the UK worth £33.3bn
· It has 55,000 businesses supporting more than 700,000 jobs
· The county has the second-highest concentration of manufacturing in the UK
· It produces more than 30% of the UK's low-carbon electricity
· There is a highly skilled workforce with 84,000 engineering and aerospace workers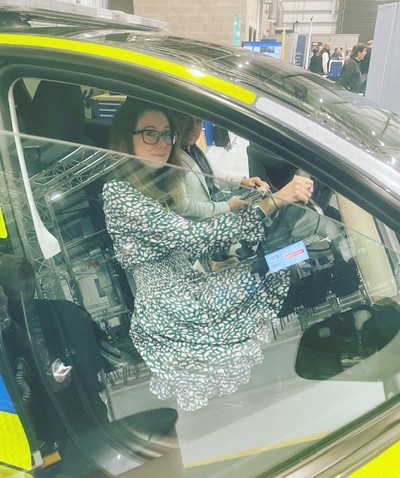 Tesla has developed a specially adapted car for the police
This was a real talking point on the exhibition floor and took centre stage as delegates entered the vast venue. Our Marketing and Communications Manager Lucy Roue also took the opportunity to have a sit inside – although the sirens were disabled.
The Model Y police car has long-range capacity and can travel up to 300 miles in one go. Costing around £90k it is currently operational in the Merseyside and Metropolitan police fleets.
Speaking of the Lancashire Innovation Festival, Laween Ali, Tesla Advisor from Stockport said: "It has been great to hear more about the AMRC's mission around sustainability as it really fits with the Tesla mantra.
"It's also been fascinating to hear about how other companies operate and hear their paths to sustainable energy."
To find out more about how Made Smarter can support your business click here.