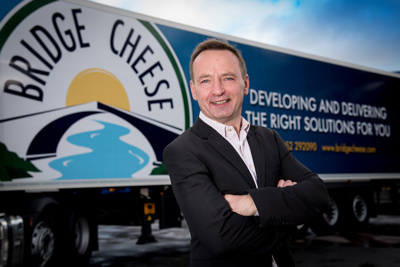 The £1.9 million Made Smarter scheme was launched in the West Midlands in June 2021 to help manufacturing and engineering SMEs utilise new digital technologies such as AI, advanced robotics, big data and wearable technology to improve their efficiency and productivity.
The Coventry and Warwickshire Local Enterprise Partnership (CWLEP) Growth Hub is leading the one-year scheme with the region's other Growth Hubs in Greater Birmingham and Solihull, the Black Country, Worcestershire, The Marches, and Stoke-on-Trent and Staffordshire on behalf of the West Midlands Combined Authority and the Department for Business, Energy and Industrial Strategy.
The West Midlands Growth Hubs are working closely with the West Midlands Combined Authority and their strategic partners WMG at the University of Warwick, and the Manufacturing Technology Centre (MTC) in Coventry.
Bridge Cheese, based in Telford, supplies a variety of cheese and dairy products to the wholesale market, with many of its customers working in the food service industry or food manufacturing.
It has only been trading for around three years, but has grown rapidly in that time, achieving double-digit growth year-on-year since its foundation.
However, directors Michael Harte and Martin Bowden knew they needed to improve the efficiency of the company's processes in order to move forward. We spoke to Michael about what has happened so far:
"The growth we've achieved as a business since we started three years ago has been fantastic, and we are hopeful it can continue.
"But we realised that in order for us to grow further, the analysis of our production needs to be a lot better.
"We had relied on spreadsheets and paper records to monitor much of our business's performance on things like machine downtime and quality control, which served us well in the beginning, but it is due for an improvement with our growth plans in mind.
"However, this was an issue we didn't really know how to address. We knew what we wanted the solution to look like – new software for these procedures – but didn't know where to look or how much time and money to sink into the improvements.
"I mentioned the issue to Telford and Wrekin Council, who referred me to the Made Smarter scheme and Martyn Mangan, one of Made Smarter's digital experts, got in touch.
"He spoke to us about our business, our ambitious growth plans, and what was holding us back, before recommending a visit from WMG to fully audit our business.
"It was brilliant timing for us. We had known the general issues with our business that was preventing us from expanding further, but Made Smarter was able to come in and properly analyse our procedures to see exactly what changes needed to be made.
"WMG helped produced a 'digital roadmap' for us, highlighting the steps we need to take over the next three to five years to digitalise our business and boost our productivity.
"One of the key recommendations they made was for the installation of a fully-integrated Enterprise Resource Planning (ERP) system into our business.
"It would digitalise our entire operation, including tracking orders, stock takes, real-time information on machine uptime and downtime, instant quality control reports, and much more.
"Once an ERP is in place, our productivity is set to skyrocket, with far less time wasted on quality control and manually checking our machines for any errors or slowdowns.
"We are currently looking at a range of ERP products now, and Made Smarter has advised us on the kinds of ERP systems we should be looking at.
"This kind of knowledge is absolutely crucial for the continued success of our business. With Made Smarter's expertise, we are now very close to getting an incredibly useful ERP system up and running, as well as having a roadmap showing us the next steps we need to take to fully digitalise our business and increase productivity even further.
"Martyn's advice on ERP systems and which ones would work for us has been fantastic, and his communication throughout the whole process has been brilliant.
"We can't wait to choose our ERP system, get it installed, and take Bridge Cheese to a whole new level."
For SMEs like us, support from a scheme like Made Smarter is so important. We are now taking the next steps towards a digital future for our business, and we would encourage others in our position to do the same.

Michael Harte, Bridge Cheese Director